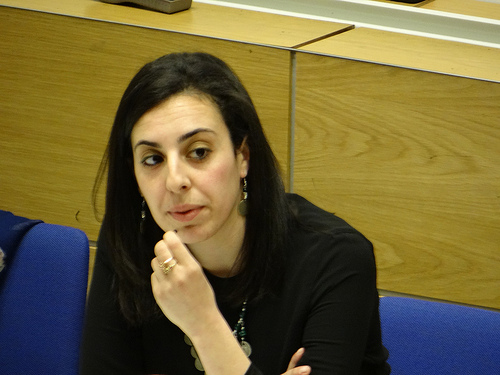 Palestinian-Americans Join Lawsuit Against Airbnb & "Jewish Settlers" Profiting From Israel's Illegal Occupation
---
BTR News, Scotty T. Reid – Randa May Wahbe, a Palestinian American US citizen who was a founding member of Students for Justice in Palestine (SJP) at UCLA and a founding member of SJP at Columbia University is among plaintiffs suing Airbnb and "Jewish" Israelis illegally occupying land that was illegally taken from their families who hold the property deeds and titles to the properties that are being listed by the international . Airbnb is a "privately held global company headquartered in San Francisco that operates an online marketplace and hospitality service which is accessible via its websites and mobile apps."
The Center For Constitutional Rights is the law firm and human rights organization that is representing the plaintiffs.
The Center for Constitutional Rights is dedicated to advancing and protecting the rights guaranteed by the United States Constitution and the Universal Declaration of Human Rights. CCR is committed to the creative use of law as a positive force for social change. We do that by combining cutting-edge litigation, advocacy and strategic communications in work on a broad range of civil and human rights issues.
Among the plaintiffs represented in US courts by CFCR is Ziad Alwan who is a Palestinian refugee who is featured in media produced by CFCR, detailed his legal grievance as he recounted his family history and their displacement from their land.
"
Anyone looking at the facts can tell that we are the rightful owners of this land, no matter how the settlers try to spin it," said Ziad Alwan, a Palestinian resident of Chicago who has the document proving that the land is registered in his father's name, even though a settler runs a bed & breakfast on his land. "I am filing this lawsuit in my father's memory, and for my own children, whom I've taught to never forget that this land is rightfully theirs".
According to the news outlet MONDOWEISS,
"Today's filing argues that the Israeli settlers who sued Airbnb have participated in war crimes by aiding in Israel's seizure of land in occupied Palestinian territory, including the specific lands on which the Airbnb properties stand. The rentals are in Israeli-only settlements from which Palestinian residents of the West Bank are barred as per Israeli military orders, and which are sometimes surrounded by physical barriers, military bases, and security gates.

"The settlers who sued Airbnb are cynically using the language of discrimination in order to further their own unlawful ends," said Center for Constitutional Rights Staff Attorney Diala Shamas. "Our experiences, Palestinians who are directly affected by these settlers' show where the real discrimination and illegality lies. This case puts the settlers on trial in a U.S. court.
It seems logical to assume that any of the US federal laws outlawing discrimination based on race, national origin and/or religion would apply and with Airbnb being based in the United States, it is subject to the US federal courts under US law.
Palestinian and Israeli activists have described the legal system under which the Israeli government operates as being akin to the United States's Jim Crow racial segregation but in this case, people deemed non-Jewish have no rights the Israeli government says those classified as Jews have to respect and that includes property law.