Black Talk Radio Network has been a safe digital space for the production and distribution of independent Black media.  Black Talk Radio started as a digital radio program on Blog Talk Radio which led to the creation of the first Black Talk Radio Network social media platform. The original idea was to get several different Black show hosts on Blog Talk Radio to come together under one community brand and format the shows into a radio station.
Black Talk Radio in a short time became one the top podcast series on Blog Talk Radio but with the success, came anti-black pushback from suspected right-wing racist white people on the Blog Talk Radio platform who among other things, said that Black Talk Radio was racist by virtue of its name. Their complaints led to Black Talk Radio to being censored for a week by Blog Talk Radio but ended up being only 3 days after an appeal of the decision was granted and the station was allowed to resume broadcasting.
Recognizing that digital radio streams and podcasting was going to be a substantial part of the emerging new media in 2008, The founder of Black Talk Radio, Scotty T. Reid, incorporated a non-profit new media education organization in the state of NC and donated $2,000 to the non-profit to fund research into digital radio and  audio podcasting. The research produced two copyrights, a technical manual on wiring external audio cards to a computer that allowed digital radio producers to incorporate live callers into their broadcasts by allowing them to mix internet-based phone services in with their digital radio stream.  Under Black Talk Media Project management, the Black Talk Radio Network has become a world leader in the production and distribution of digital radio streams and podcasts from independent Black media producers.
All of this has been made possible by a small group of regular donors and patrons of Black Talk Media Project who took advantage of its new media technology classes and tutorial videos that have always been open to the public.
However, the goal has always been and remains to be the establishment of digital radio stations to replace the independent Black radio stations that have been lost in African American communities across the United States that have always served as the primary source of information and entertainment for those communities coming out of Jim Crow segregation.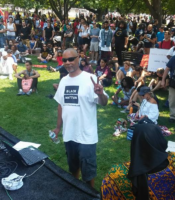 The decline in Black radio began with the passage of the 1996 Telecommunications Act which allowed media giants to obtain more licenses for individual markets thus drowning out the authentic Black voices featured on Black-owned stations also making their share of market advertising revenue go down making it hard to compete financially and being forced to sell their stations.
The Black Talk Media Project believes the Black community can reverse those fortunes by establishing digital radio stations in our communities which is much less expensive than terrestrial broadcasting and less red tape without the need to spend huge sums of money it takes to get a license to broadcast from the US government. While it is far less expensive and easier to establish digital radio stations but it still takes funding so that the Black Talk Media Project can engage in on the ground community outreach and education that can lead to the establishment of community-based digital radio stations.
NYC Hip-Hop Film Festival, the historic Millions For Prisoners Human Rights March which occurred on August 19, 2017, in Washington, DC.
If you want to help Black Talk Media Project continue to maintain platforms like Black Talk Radio Network and build on its plan for independent non-profit community Black radio stations,  you can make a donation online. Please consider making a monthly donation of any amount. Send checks or money order made out and addressed to the Black Talk Media Project, PO Box 65, Mt. Holly, NC 28120.  All donations are appreciated!

Goal: $24000
Amount Needed To Hit Gaol: $16800