The Black Talk Media Project is a non-profit new media organization that fosters the production and distribution of podcasts made specifically for the African-American community and the African Diaspora. Our mission is to elevate voices so they can speak directly to the issues that impact them without undue censorship within reason, We no longer offer podcast services to the public and those interested in having their podcast distributed can submit their podcast for review and if accepted, get information on how to become part of our collective.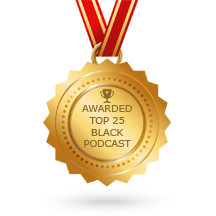 According to the independent research and analysis of a team working for Feedspot which is a marketing, and digital media research firm, Black Talk Radio Network was ranked #1 in a top 25 list of "Black Audio Podcasts" and "African Diaspora". The list was created to rank the thousands of audio podcasts made for or by Black and/or African descendant podcasters.
Help For New Podcasters
New to podcasting and don't know how to start? Start with our video tutorials and blogs that will walk you through the various methods of creating an audio podcast.
Monetize Your Content
BTRN can help podcasters monetize the content they post to the network with embedded audio ads.
*Content promoting pornography, hate speech or illegal activity is strictly prohibited and the content will be removed at management's discretion. As an organization, we respect the human rights of all human beings and content that is deemed a violation of this principle will be removed.