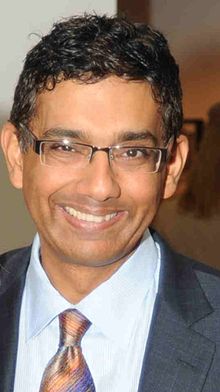 Conservative operative Dinesh D'Souza arrested in New York for illegal campaign contributions
Podcast: Play in new window | Download (0.2KB) | Embed
Subscribe: Google Podcasts | Stitcher | Email | TuneIn | RSS | More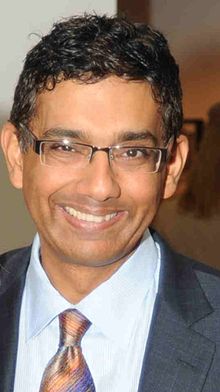 By Scotty Reid
Dinesh D'Souza, the long time conservative political operative has been charged in New York with making illegal campaign contributions totaling $20,000 to the Senatorial campaign of Republican Wendy Long in 2012. Long would lose to incumbent and Democrat Kirsten Gillibrand. D'Souza gained the national spotlight in 2012 with his factually baseless propaganda film "2016: Obama's America" which was produced with the help of Gerald R. Molen who co-produced the film Schindler's List and bankrolled by 25 investors whom D'Souza admitted in a New York Times interview "were not fans" of Barack Obama.
Critics alleged that the film was a full featured campaign ad for Mitt Romney, which made baseless claims that Obama was anti-American driven by the anti-colonial dreams of his father. D'Souza is on record as a supporter of the European colonialism of Africa and that of his home country of India. However, D'Souza has been a long time fixture in the Republican Party going back to his days in college and was once a non-US citizen domestic policy adviser of President Ronald Reagan and perhaps a leading voice and supporter of apartheid in South Africa behind the scenes given his pro-colonialist views.
D'Souza has been arrested and charged with making illegal contributions through straw donors to U.S. Senate candidate Wendy Long in 2012 and will be arraigned today in a Manhattan Federal Court. A straw donor is a person who takes money from another person and makes a political donation in his or her own name to get around laws that limit individual campaign donations.
D'Souza lawyer, Benjamin Brafman said, "It is important to note that the indictment does not allege a corrupt relationship between Mr. D'Souza and the candidate," It is possible that Brafman is trying to get ahead of possible allegations that D'Souza and Long were engaged in an inappropriate sexual relationship or that Long may have known about the illegal contributions to her campaign. D'Souza was forced to resign from his post as President of the King's College, a Christian institution, after it was reported he stayed the night in a hotel with a new girlfriend while still married to his wife in 2012.
In addition to the illegal political campaign contributions, he is also facing charges that he caused false statements to be filed with the FEC. The illegal contributions charges carry a penalty of a maximum sentence of two years incarceration and the FEC false statement charges carry a maximum of five years in prison. As to be expected, Dinesh supporters and the co-producers of his film are claiming the charges are politically motivated insinuating that President Obama is involved in a conspiracy to get back at the conservative political pundit. In November 2013, in what was called a "vile" tweet, D'Souza called President Obama a "Grown-Up Trayvon".
Audio version