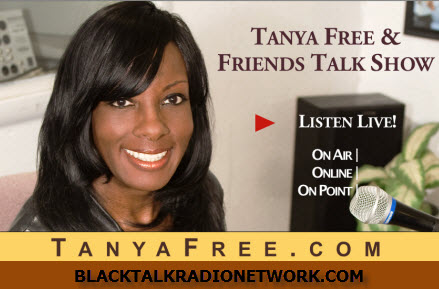 WEDNESDAYS – 2:00 PM EST
STUDIO LINE: (804) 321-1010


Tanya Free – Facebook – Twitter
This week's topics include:
One year ago, the Supreme Court struck down the formula for Section 5 of the Voting Rights Act.As we head toward midterm elections , state after state have passed or implemented or proposed bills harder for Americans – particularly African-Americans, the elderly, students and people with disabilities – to exercise their fundamental right to cast a ballot.

Should inmates be allowed to be organ donors?

Study: Little Progress for African-American Men on Racial Equality Since 1970

Would you eat ,shop or work where guns are allowed?
Tanya is the Executive Producer and Host of the "Tanya Free and Friends Talk Show," a platform for social and political straight talk originating from WCLM1450AM in Central Virginia and simulcast on the Charlotte, NC based Black Talk Radio Network based and online at TanyaFree .com .Her nationally syndicated "Question of the Week" can be heard weekly on Sirius/XM Satellite Radio and The Big John Trimble American Music Network. For Archives check out http://TanyaFree.com
Sponsorship opportunities available. Call Tanya at 804-321-1010 for more information.