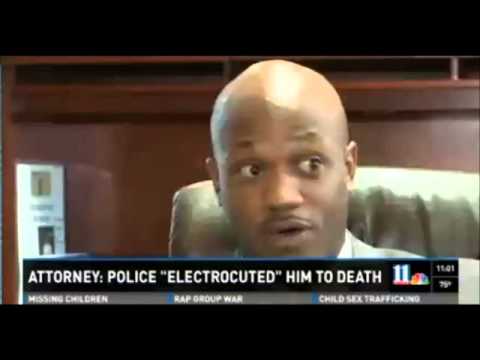 Gregory Towns Jr tasered to death by East Point Police officers
[jwplayer mediaid="5525″]
On April 11, 2014, Gregory Towns Jr. was tasered to death by two East Point Georgia Police Officers while he was handcuffed with his hands behind his back. Towns fell into a nearby creek whereas one of the officers continued to taser him. The coroner ruled the death by taser a homicide and listed heart condition, extensive physical activity and electrocution all contributed to Towns' death.
Gregory Towns Jr. had a pre-existing heart condition and was in a physically agitated state and the subsequent tasing caused his heart to stop.
GBI spokesperson Sherry Lang for the Georgia Bureau of Investigation (GBI) told an NBC affiliate news crew, "A lot of people get that confused with murder, and murder is actually a criminal charge," Lang said. "All homicide means is that a person caused another person's death. It doesn't necessarily mean that a crime has been committed."
However, it is not as simple as this "spokesperson" would have you believe. Georgia law has several criminal statutes that address deaths caused by the negligence of others.
According to Swindle Law Group which is in Carrollton, GA,
"Georgia recognizes the offense of involuntary manslaughter.  A person commits the offense of involuntary manslaughter when that person kills someone doing something legal in an illegal way.  These are typically considered to be accidental killings."

Two East Point officers tasered Gregory Towns Jr. for almost two minutes while he lay on the ground and later in a nearby creek handcuffed with his hands behind his back until he died from electrocution.
According to NBC Affiliate 11Alive,
The family's attorney, Chris Stewart, has already given the city notice that they plan to file a lawsuit….
"The biggest thing the family wants to know why their son was electrocuted to death," Stewart told 11Alive's Blayne Alexander. "Every witness is saying the same thing — they're all saying he was cuffed behind his back, on the ground getting tazed over and over again – and that led to his death."
One of the officers has since been fired by the department and the other is appealing his termination through the local police union and neither man has been charged in the excessive force case.