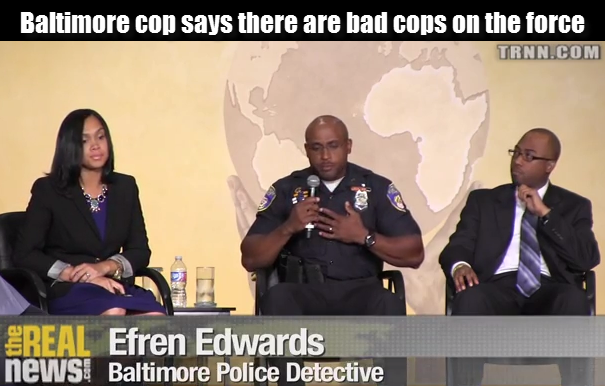 Baltimore Cop says some officers should not be on the police force
[jwplayer mediaid="6088″]
Baltimore politicians, religious leaders and residents met at a Northwest Baltimore Church Tuesday night to discuss police violence and reflection on community activism to address the issue in the wake of the highly publicized case of the murder of Michael Brown.
Rev. Jamal-Harrison Bryant who pastors the Empowerment Temple said that the death of Michael Brown in Ferguson, Mo. could be a landmark in the history of African-American activism.
Baltimore is no stranger to police brutality and murder and it played it a key role in illegal FBI COINTELPRO activities to target and eliminate Black activist. Some of the founding members of the Baltimore Black Panther Party chapter were actually undercover police officers with the Baltimore Police Department. Those undercover officers played a role in framing Black Panther Party member Eddie Conway who was recently released from prison after serving after having served 43 years and 11 months when an appellate court ruled that the jury in his trial for killing a cop was given improper instructions.
Rev. Jamal-Harrison Bryant brought up the case of Tyrone West, who was killed during an arrest by Baltimore police but a coverup resulted in the officers being cleared of wrong doing. A family member of West who was killed during a 2013 traffic stop said of police, "These dangerous serial killers are still on the street to try and harm somebody else,".
Baltimore Police Detective Efren Edwards who was also in attendance said that there are cops on the force who should not be armed with guns nor badges.