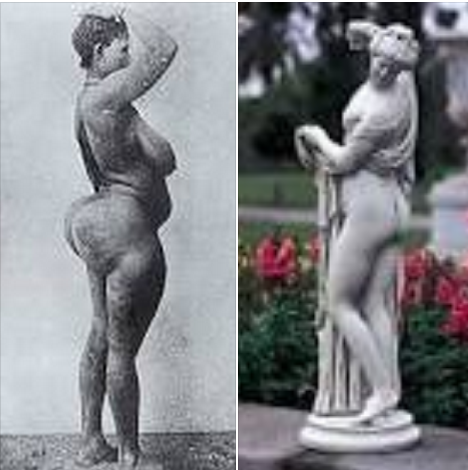 Racism in the dictionary: Steatopygia vs Callipygian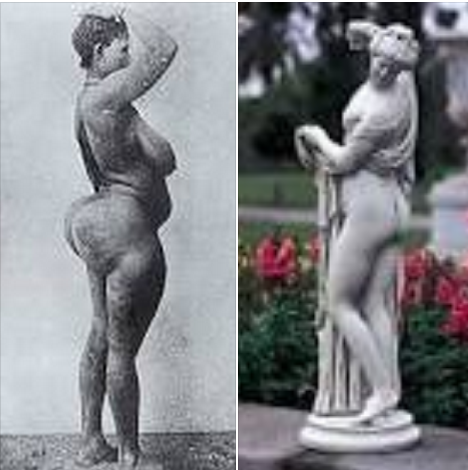 In the Webster Dictionary and encyclopedias , they have racist and stereotypical words for black women. Look up "steatopygia" which is Greek and means excessive fat on the buttocks especially in Hottentot or Negro women. Look at the picture on the left that is suppose to depict this "disease" of African women.
Now the Greek word to explain a "normal" or nice butt is called "callipygian" which means having shapely buttocks or a waist. Look at the photo on the right, which is of a statute of Venus, a Greek Goddess.
What the white men who publish dictionaries are saying is that if you have some junk in the trunk which women from all races have, you have the disease of steatopygia which is attributed to only black women by using the photo of Sarah Bartmann also known as Venus Hottentot who was exploited in Europe and put on display as if she was a freak show.
However, according to the definition of callipygian, if you have a flat, pancake ass like Venus the Greek Goddess then you a "normal" or "beautiful" ass but by using the photo of Venus, the assumption is that only white women have this characteristic.
These words should be taken out the dictionary as they have no common usage in language and especially since it seems most women are doing all they can to pump up their "gluteus maximus" either by exercising or by silicon or fat injections. White men have always loved the shape of Black women going back to chattel slavery and present day pop culture but they also demonize Black women at the same time.
Look up these two words for yourself. The imagery is very powerful but it is my intent to show Black people in the light they deserve which is greatness, intelligent, proud and a wonderful people.