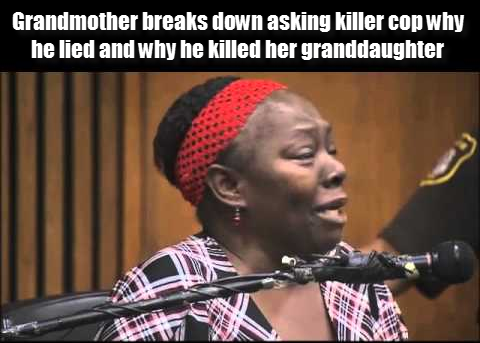 Grandmother of Aiyana Stanley-Jones asks killer cop why he lied
[jwplayer mediaid="6527″]
The jury in the trial of killer cop, former Detroit Swat team member Joseph Weekley, was dismissed after an emotional breakdown of Mertilla Jones, the grandmother of 7-year-old Aiyana Stanley-Jones who was killed in 2010 during a no-knock raid conducted on their residence. Searching for a murder suspect whom police believed was hiding in the home but in fact was not, the Detroit Swat team assaulted the residence with no warning firing flash bang grenades into the home to "distract" the occupants. The grenade launched blindly into the house landed on the couch where little Aiyana was reportedly sleeping with her grandmother Mertilla Jones, catching it on fire.
Within seconds of the flash-bang grenade going off and with "First 48" reality TV cameras in tow, Weekley burst through the front door and shot Aiyana Stanley-Jones through the top of her head killing her. During testimony recounting the deadly events, Mertilla Jones became visibly upset and asked Weekley why he lied about her being responsible for the killing. Weekley main defense is that Mertilla Jones grabbed his weapon when he came through the door causing it to fire. However, Mertilla Jones, who was arrested after witnessing the killing of her granddaughter, was tested for gunpowder residue that turn out negative meaning she could not have been in close proximity to the weapon when it was discharged.
This is Weekly's second trial on charges of manslaughter. Weekley's first trial ended in a hung jury in June 2013.