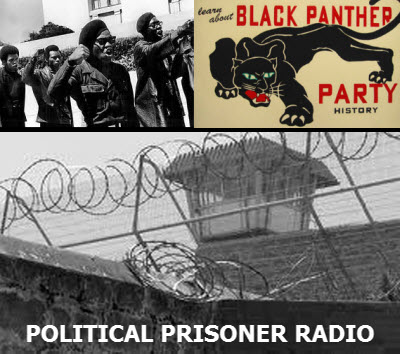 Political Prisoner Radio – Assassination Nation w/ Chairman Fred Hampton Jr.

Live every Sun @ 9:00PM EDT
Conference Line: 1-530-881-1400 Access code 549032#
Hit star or *6 and 1 to weigh in on the convo.

Tonight on Political Prisoner Radio we would like to remind everyone police brutality is one of the reasons there is a need to do this weekly program. Many of the US political prisoners being held and tortured today were mobilized in part by police terrorism.
Political prisoners can be expected to be taken by the US government and the states during this current period of mass unrest and aggravation with police terrorism. It is imperative we feel, that we use this opportunity to introduce today's victims of police terror and violence to those among their parents and grand parents generations that organized to make their communities safe from the Klan and police. During the 50s, 60s, 70s and 80s, the FBI working in conjunction with targeted community activists for assassinations frame ups by cops. Many are still in prison today hence the need for Political Prisoner Radio.
Police Unions are a huge factor in police terrorism and the special privileges granted to their members goes against any true ideal of justice or equality. Lets look at some of those privileges.
The Law Enforcement Officers' Bill of Rights (LEOBR or LEOBoR) is intended to protect American law enforcement personnel from unreasonable investigation and persecution caused by extraordinary circumstances in the official performance of their duties, and provides them with special privileges not enjoyed by other Americans accused of crimes. It was first set forth in 1974, following Supreme Court rulings in the cases of Garrity v. New Jersey (1967) and Gardner v. Broderick (1968). Most states have different versions of the Bill written into their statutes.
Throughout the bloody pages of America's history, including its pre-colonial days, police have always been engaged in capturing and/or killing non-white people. Tonight we will revisit some of that history and speak with Chairman Fred Hampton Jr., a survivor of police brutality when the Chicago Police attempted to murder his mother while she was pregnant with him. The Chicago Police Department with help from the FBI was unfortunately successful in assassinating Chairman Fred Hampton Sr. thus creating another fatherless child in the community.