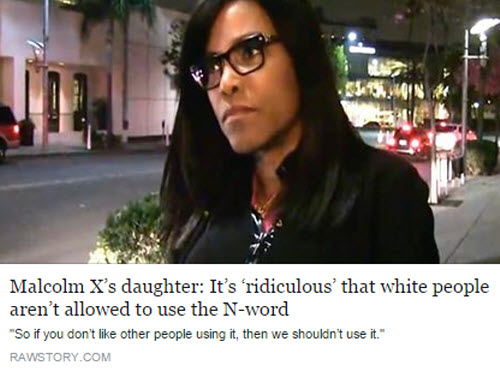 Daughter of Malcolm X did not say white people should be able to use the word "Nigga"
Podcast: Play in new window | Download (2.3MB) | Embed
Subscribe: Google Podcasts | Amazon Music | iHeartRadio | Stitcher | Podchaser | Email | TuneIn | RSS | More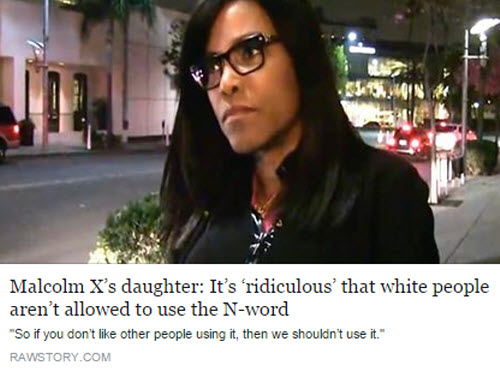 by Scotty Reid
As a student of media and particularly of media propaganda, I have learned that writers and editors will sometimes post headlines that are not appropriate and mislead readers about the content of the article. While I have no problem with headlines being written in such a way to grab attention on social media, I do have a problem when those headlines are an outright lie. Another thing that annoys me is that many, many people on social media websites will read headlines and from those headlines many think they have all the information they need to form an opinion. I have been guilty of this in the past but have made a conscious effort to get the whole story before commenting on a headline.
Case in point….
The RAW STORY, which is a website that produces quality social and political commentary from a progressive perspective, recently published a very misleading headline attached to a story about comments one of Malcolm X's daughters made about the use of the word "nigga" in rap music.
As you can see from the screen grab from Facebook posted above, the headline reads, "Malcolm X's daughter: It's 'ridiculous' that white people aren't allowed to use the N-word". The article links to a story on TMZ, the celebrity gossip website which produced the video commentary of Ms. Ilyasah Shabazz and its headline read, "Malcolm X's Daughter White People Can Sing the N-Word If Black People Record It".
While TMZ's headline is a little more accurate in framing the context of Ms. Shabazz's words, the little short blurb written under the video misrepresents the sentiments she was expressing.
What was actually said was…
"Do you listen to rap at all?" – TMZ reporter
"I do," – Ilyasah Shabazz
"Do you cringe when they drop the N-word?" – TMZ reporter
"I think it's just ridiculous sometimes. I think it is. I think it's a bit ridiculous," she said.
"What do you think about white people singing along with the N-bombs?" – TMZ reporter
"I mean, you know, I think if we're going to — I don't know that you can — if you're gonna use it, then everybody should be able use it, so if you don't like other people using it, then we shouldn't use it." – Ilyasah Shabazz
The headlines, especially the headline "Malcolm X's daughter: It's 'ridiculous' that white people aren't allowed to use the N-word" is a blatant lie that misrepresents what Ms. Shabazz said. What I heard was that Ms. Shabazz thinks the use of the word "nigga" in rap music is "ridiculous" and that she does not approve.
[jwplayer mediaid="9535″]
After being asked another silly question by the TMZ reporter about white people singing rap songs with the word "nigga" in them and if its ok like the "nigga moment" scene in the ridiculous movie White Chicks, Ms. Shabazz indicated that it would be ridiculous for Black people to get mad at some white person singing along and repeating the word that is in the song.
Why am I even writing about this ridiculous non-story? It became a story for me when I observed Black people on social media making derogatory comments about Ms. Shabazz who more than likely only read the headline or did not comprehend what they were reading or hearing Ms. Shabazz express on the video.
Another great Black leader who looked up to Ms. Shabazz's father Malcolm X, Jamil Al-Amin formerly known as H Rap Brown once said that Black people have to began to control their communities and everything in their community they do not control is a weapon against them and… "what the white press does is that it makes Black people an enemy of Black people".