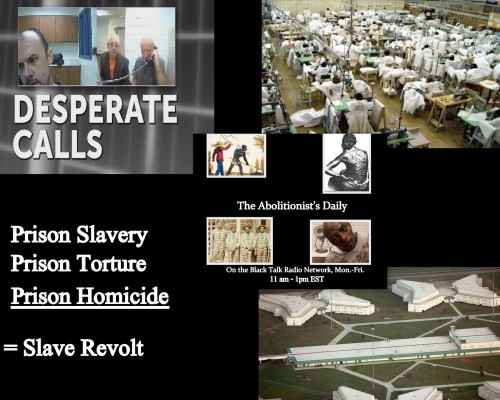 The Abolitionist's Daily – Slave Uprisings Spreading State To State!
Podcast: Play in new window | Download (0.2KB) | Embed
Subscribe: Google Podcasts | Amazon Music | iHeartRadio | Stitcher | Podchaser | Email | TuneIn | RSS | More
[jwplayer mediaid="10114″]
Download Podcast
Amazingly we warned you that what happened in Willacy County, TX. last weekend was not going to be the end of the plantation revolts. Now we find out that several work stoppages are now ongoing, or about to soon start. The Abolitionist's Daily will give you the up to date info on St. Clair Correctional Facility, in Alabama, and Lee Correctional Institution in Lee County, SC. These are all related to the same conditions we've been reporting on all along- rotten food, prisoners being beaten, tortured and otherwise harassed, no medical care, and the forced slave labor. Join us, and spread the word on to everyone you can, because this is only the beginning, America will be changed by this fight.
How horrible would it be for you to know that you have a serious heart condition, and all you can do is beg your family on the outside to pray for you to get some medical attention? We'll bring you the gut wrenching story of a young man, jailed for a non-violent drug offense, and received NO medical care, until it was too late.
We'll bring you an update from the fallout surrounding the Chicago PD's black sites, and now that the info is out there, more people are coming forward about having been detained and tortured in these off the radar warehouses. Are they completely illegal? Or is this just what the NDAA mandated from the start?
Our final news story comes out of Tallahatchie County Correctional Facility, a private prison California uses to relieve its prison overcrowding; it is owned and operated by the Corrections Corporation of America, CCA. We have received reports of at least 4 deaths in the last 2 months down there. This is not only slavery, it is also human trafficking- and now potentially criminally negligent homicide.
Our Unexplainable Black Death profile is Tommy Yancy, 32, father of two, and U.S. Army veteran was savagely beaten to death by five law enforcement officers during a routine traffic stop.
Our Abolitionist of the Day is Bro Glenn E. Martin, Founder of JustLeadershipUSA, a group which aims to cut the number of people in prison in half by the year 2030.