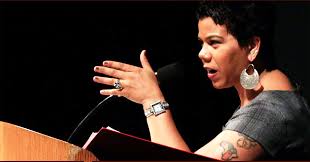 Former Green Party VP nominee has low opinion of Hillary Clinton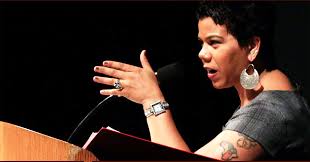 By Scotty Reid – According to her official website, "Rosa Alicia Clemente is a Black Puerto Rican grassroots organizer, hip-hop activist, Rosa Alicia Clemente is a Black Puerto Rican grassroots organizer, hip-hop activist, journalist, and entrepreneur. Founder of Know Thy Self Productions, Rosa has created two successful college/universities tours, Dare to Struggle, Dare to Win and the Speak Truth to Power.
On the subject of speaking truth to power, the former vice presidential running mate of 2008 Green Party Presidential candidate Cynthia McKinney took aim at the powerful Clinton machine and the Democratic establishment represented by former Hillary Clinton aide and current DNC chairperson, Debbie Wasserman Schultz who like Clinton has long-standing ties to the private prison industry.
Clemente posted her thoughts about the establishment's choice in Clinton to social media after she was apparently asked by someone her thought about presidential candidate Clinton.
… Founder of Know Thy Self Productions
Someone asked my thoughts on @HillaryClinton I said,patriarchal anti-feminist,WallStreet loving, coup facilitating, zionist loving warmonger

Posted by Rosa Clemente on Sunday, January 10, 2016
Clinton has thus far avoided any situations where she has been put in a position where she could be asked any tough questions about her latest batch of classified email being released in late December. The number total of improperly stored classified electronic communications on her privately maintained email server is reportedly up to over 120 classified emails. Clinton has always maintained that no classified material was stored on her server but the FBI investigation keeps turning up more classified material with each court batch release of the former Secretary of State's emails.
Former Green Party vice president candidate Rosa Clemente could be hinting at information reveal within the latest batch that shows the United States and France had ulterior motives for overthrowing Libya and making sure Prime Minister Muammar Muhammad Abu Minyar al-Gaddafi did not survive the coup.
Foreign Police Journal wrote about information contained within the emails that would support Clemente's assertions….
Newly disclosed emails show that Libya's plan to create a gold-backed currency to compete with the euro and dollar was a motive for NATO's intervention.
Don't expect any mainstream media to ask the former Secretary of State why the United States overthrew Libya when just ten years ago it had normalized relations and partnered with Gaddafi to go after Islamist terrorist groups in the region. Clinton and the Obama administration did in fact, partner with terrorist groups and overthrew Libya in 2011 because of the prime minister's proposals to other African leaders to liberate Africa from European and American currency by creating their own united currency.
---

If you want truth and facts vs lies and fiction, support independent media.http://tinyurl.com/fundblackmedia