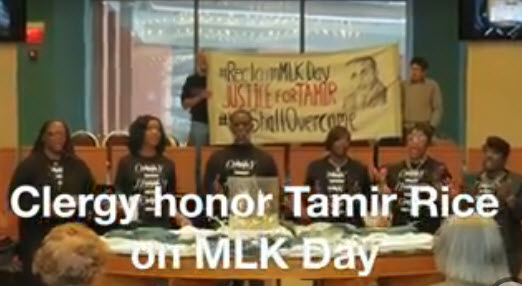 Cleveland Pastors say Tamir Rice case "ain't over"
By Scotty Reid – Expressing frustration with Cleveland prosecutor Tim McGinty, who worked hard to ensure the two cops involved in the senseless killing of 12 yr old Tamir Rice were not indicted, a group of Ohio pastors at a MLK Day celebration in Cleveland had a message for him.
"As a result, many in our ranks have completely lost confidence in Mr. McGinty and feel that he has failed us all," clergy members said in a joint statement before a prayer service honoring Martin Luther King Jr. and Tamir.
Speakers and organizers included The Revs. Larry Macon Sr., Mt. Zion Church of Oakwood Village; Tony Minor of Community of Faith Assembly; and Jimmy Gates of Zion Hill Missionary Baptist Church. The Rev. Marvin McMickle, president of Colgate Rochester Crozer Divinity School in Rochester, New York, and former pastor of Cleveland's Antioch Baptist Church, also spoke.
More than 50 people attended the service at Cleveland's United Church of Christ including protesters who had demonstrated against McGinty earlier that day.
Members of United Pastors in Mission are calling for Ohio legislators to create a position of an independent prosecutor to investigate future killings involving police instead of leaving it up to local prosecutors who are usually too cozy with police unions.
---

If you want truth and facts vs lies and fiction, support independent media.http://tinyurl.com/fundblackmedia