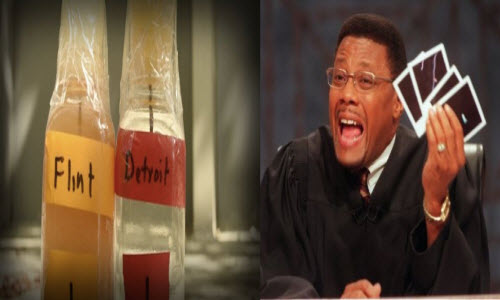 Judge Mathis compares Michigan government to terrorists poisoning the water
By Scotty Reid – In a video interview published by Rolling Out Tv, famed retired Detroit judge and television personality Judge Greg Mathis, compared the government's criminal negligence in relation to the water crisis in Flint, Michigan, to a deliberate terrorist attack.
Judge Mathis who is known for his activism involving social issues, minced no words as he noted how Homeland Security and other government agencies over the years have warned about the nation's water supply being a "soft target" for "terrorist" yet in Michigan the government is the one that knowingly allowed people to drink from a poisoned water source.
Judge Mathis said in this case, government negligence was so gross that it may rise to the level of criminal charges.
Judge Mathis is part of a grassroots legal team that are there to help the people of Flint with any legal assistance they may need in addition to helping them with their immediate water needs.
Calls for a federal government funded evacuation continue to grow louder as reports are coming in about water so contaminated it can't be treated. Discussions are being had about the creation a citizen-led effort to evacuate the people of Flint.
Many feel that it is absurd that the Obama administration is failing in its obligation to its own citizens and not showing the same urgency for human life as was shown in efforts to evacuate Syrian refugees who were victims of a man-made disaster outside of the United States.
---

If you want truth and facts vs lies and fiction, support independent media.http://tinyurl.com/fundblackmedia