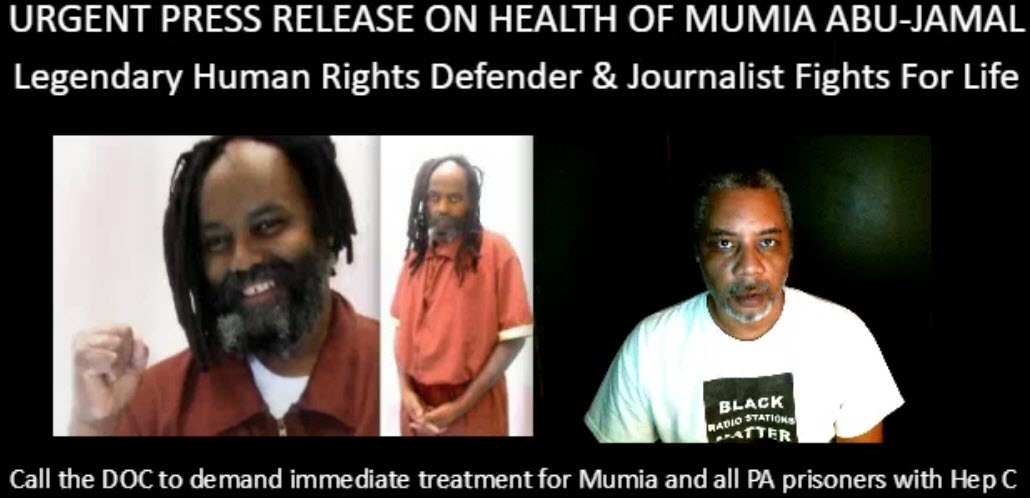 Political Prisoner Radio: Mumia Abu Jamal Hep C Treatment Delayed, Irreversible Damage To Liver
Podcast: Play in new window | Download (Duration: 3:38 — 2.7MB) | Embed
Subscribe: Google Podcasts | Amazon Music | iHeartRadio | Stitcher | Podchaser | Email | TuneIn | RSS | More
Press Release: On March 31, 2017, Mumia Abu-Jamal received a cruel mix of bad and good news from a prison doctor. The doctor shared the results of his recent lab test, which showed clear signs of cirrhosis, an irreversible scarring of the liver caused by his untreated Hep C. The doctor also informed Mumia that he would be treated with the Hep C cure within a week."
The impending victory was bittersweet. Mumia shared his feelings with those he called that morning. His rare expression of emotion was also captured in an interview that evening in which he stated: "My first reaction was really shock, anger, disbelief. If I had been treated in 2015, if I had been treated in 2012 when they say they first diagnosed it, I wouldn't be this far advanced.…For a lot of guys and a lot of gals inside the Pennsylvania prisons, I think it is a step forward and a great day, but I assure you I don't feel that way right now."
We are calling on you to do two things.
1. Call the DOC to demand immediate treatment for Mumia and all PA prisoners with Hep C — PA DOC Secretary John Wetzel, (717) 728-2573, (Email) ra-crpadocsecretary@pa.gov — (Twitter) @johnewetzel * @CorrectionsPA
2. Join us in Philadelphia on Monday, April 24, 2017 at 8:30AM, at the the Philadelphia Court of Common Pleas to assert Mumia's innocence and call for his immediate release.
Center for Criminal Justice, Courtroom 1101, 1303 Filbert Street, Philadelphia, PA.
Help with the production of public media with a tax deductible gift today to the Black Talk Media Project. http://buff.ly/2n7yHHy or http://tinyurl.com/fundindymedia