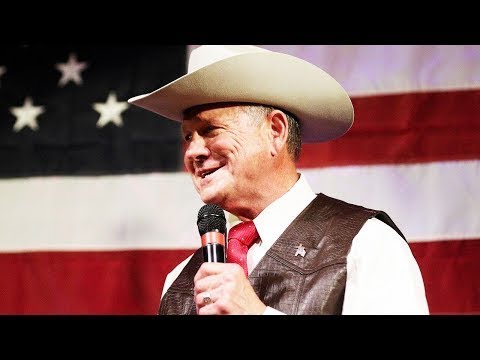 Video: Breaking News Roy Moore Accused Of Molesting Underage Girl
Breaking News Roy Moore Accused Of Molesting Underage Girl. Republican candidate for the US Senate Roy Moore has been accused of sexually assaulting a 14-year-old in 1979. John Iadarola, Jayar Jackson, and Mark Thompson, the hosts of The Young Turks, discuss. Tell us what you think in the comment section below. "Leigh Corfman says she was 14 years old when an older man approached her outside a courtroom in Etowah County, Ala. She was sitting on a wooden bench with her mother, they both recall, when the man introduced himself as Roy Moore. It was early 1979 and Moore — now the Republican nominee in Alabama for a U.S. Senate seat — was a 32-year-old assistant district attorney. He struck up a conversation, Corfman and her mother say, and offered to watch the girl while her mother went inside for a child custody hearing.
"He said, 'Oh, you don't want her to go in there and hear all that. I'll stay out here with her,' " says Corfman's mother, Nancy Wells, 71. "I thought, how nice for him to want to take care of my little girl."
Alone with Corfman, Moore chatted with her and asked for her phone number, she says. Days later, she says, he picked her up around the corner from her house in Gadsden, drove her about 30 minutes to his home in the woods, told her how pretty she was and kissed her. On a second visit, she says, he took off her shirt and pants and removed his clothes. He touched her over her bra and underpants, she says, and guided her hand to touch him over his underwear."
Read more here: https://www.washingtonpost.com/investigations/woman-says-roy-moore-initiated-sexual-encounter-when-she-was-14-he-was-32/2017/11/09/1f495878-c293-11e7-afe9-4f60b5a6c4a0_story.html?utm_term=.baa8499d2849
Hosts: John Iadarola, Jayar Jackson, Mark Thompson
Cast: John Iadarola, Jayar Jackson, Mark Thompson. The Largest Online News Show in the World. Hosted by Cenk Uygur and Ana Kasparian. LIVE STREAMING weekdays 6-8pm ET. https://goo.gl/tJpj1m . Subscribe to The Young Turks on YouTube: https://goo.gl/a3JY9i , Like The Young Turks on Facebook: https://goo.gl/txrhrh , Follow The Young Turks on Twitter: https://goo.gl/w6ahdV , Buy TYT Merch: https://goo.gl/KVysaM
---

The Black Talk Radio Needs Your Help, Make A Donation Today!
Check or Money Orders to Black Talk Media Project, PO Box 65, Mt. Holly, NC 28120

Join Us In Black Talk Radio's Private Social Media Community!