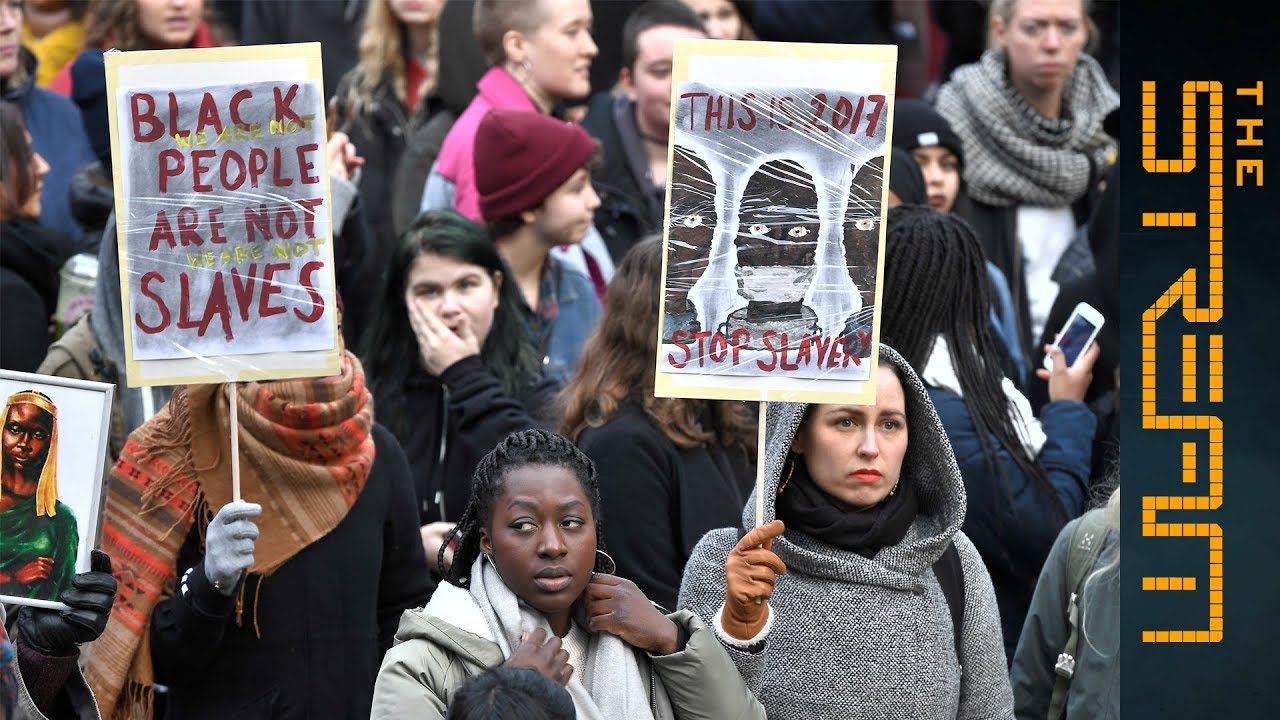 Video: What can be done to end human trafficking in Libya?
They come from sub-Saharan Africa seeking security and a better life in Europ only to be detained and exploited – even killed – in country beset by political chaos. Libya is a gateway for many Africans hoping to escape hardship at home but for thousands of them the danger of traveling through a nation in turmoil can be just as perilous.
A recent CNN report on what appeared to be a thriving slave trade in Libya sparked outrage in the streets and shock online, prompting demonstrations of solidarity worldwide and demands for immediate action and relief. Many people also used the hashtag #LibyansAgainstSlavery to challenge myths about its prevalence and discredit images purportedly showing abuse of Africans at the hands of Libyans.
Political instability since the fall of long-time leader Muammar Gaddafi in 2011 has given rise to rival governments and armed groups, making the country a focal point of regional smuggling networks. Africans who find themselves unable to pay smugglers en route to Europe risk being auctioned into slavery for, in some cases, just a few hundred US dollars.
"[Africans traveling to LIbya] see the promise of a new life when they go to their Facebook feed", said Leonard Doyle of the International Organisation of Migration (IOM). "They think something wonderful is waiting for them in Europe, because a smuggler has abused the system and has sold them that lie." According to IOM estimates, at least 20,000 people are currently detained in Libya.
Officials from the UN, EU, and African Union plan to impose financial sanctions against known smugglers, and will work alongside the IOM to organise the repatriation of Africans stuck in Libya. Still, human rights observers say some EU governments fuel the crisis by failing to provide "alternative safe and legal paths for migrants and refugees."
"This has inevitably led to more dangerous conditions for people already in transit countries such as Libya", says researcher and Global Voices editor Joey Ayoub. "As the EU continues to pour millions of its taxpayers' money into security policies violating human rights transit countries, the death rate of migrants and refugees crossing the Mediterranean continues to increase".
So, in a country as lawless as Libya, what practical measures can European and African governments implement to improve the conditions of Africans detained there and prevent them from being exploited and harmed by slave traders?
Join The Stream for the discussion on Monday, 4 December at 19:30 GMT.
Join the conversation:
TWITTER: https://twitter.com/AJStream
FACEBOOK: http://www.facebook.com/AJStream
GOOGLE+: http://google.com/+TheStream
Subscribe to our channel http://bit.ly/AJSubscribe