By Scotty T. Reid – If you are a Black voter watching MSM and all the anti-Cuba, anti-Castro propaganda designed to weaken support for the Democratic frontrunner Senator Bernie Sanders there is some Black history you should be made aware of. Sanders has been attacked for explaining to former CIA intern and CNN anchor Anderson Cooper that Castro created popular education programs that improved the lives of Cubans after the Cuban revolution in 1959 ousted the murderous U.S.-backed Military Dictator Fulgencio Batista y Zaldívar.
Personally, I don't like it when Sanders refers to some leftist leaders like Castro as dictators because of the negativity associated with the word but I guess it is true that Castro was the head of an authoritarian government but one that vastly improved the education and healthcare of Cubans despite the ongoing US sanctions on the tiny island nation since the people rose up to take their nation out of the hands of a brutal Washington, DC puppet.
Fidel Castro looms large in not just the freedom struggles of Black people in the United States but also the freedom struggles of Black people in African nations. Because the US education curriculum is rarely objective and often is used to negatively propagandize people like Castro and reinforce nationalism and solicit patriotism to the United States government, the internet gives us access to information that tells a different story.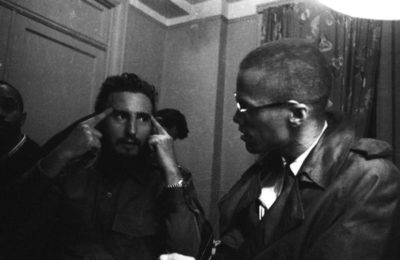 Fidel Castro and Malcolm X
There is currently a Netflix documentary that has placed the murder of Malcolm X in the spotlight and while I have not finished watching the entire series, I can not help but wonder if it will cover Malcolm's meeting with Castro in Harlem when the Cuban leader was here on United Nations business and decided to rent a room at the black-owned Theresa hotel after being mistreated by managers of the Shelburne Hotel in New York.
The Day Fidel Stayed in Harlem with the Poor Black People of New York
"Harlem mobilized to welcome Fidel," Roa recalls. "Malcolm X, of course, summoned the Black community, and they in turn spread the word to everyone, all their friends, the Puerto Ricans, the Cubans who lived in Harlem at the time." The images of the situation show the New York police unable to contain the mass of people who gathered to receive the Cuban revolutionary. "When the caravan arrived, they began to shout Fidel, Fidel," says Roa. "It was like being in Cuba." The Commander in Chief greeted those present and entered the hotel where Malcolm X and Bob Taber, among others, were waiting for him.

Journalist Ralph D. Matthews wrote an article for the weekly New York Citizen-Call about the encounter.

"As long as Uncle Sam is against you, we know you're a good man," Malcolm X told Fidel. "We fight for all oppressed people," said the Cuban to his host, a symbol of the social struggle and the rights of Blacks within the United States. "That's what we'll talk about at the United Nations."

A few days later, Fidel would make history in the hemicycle of the General Assembly. His speech lasted more than four hours and was one of the most applauded in the history of the United Nations. Indeed, he addressed discrimination against minorities, claimed the right of poor countries to their development and denounced the injustices of the prevailing system as never before done in that room. "The philosophy of dispossession will cease and the philosophy of war will cease," he said. Read more.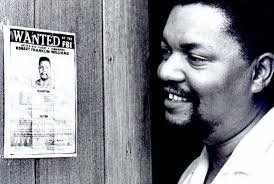 Civil Rights Activist & Freedom Fighter Robert F. Williams
Robert F. Williams and his wife Mabel Williams loomed large in Monroe, NC as civil rights leaders and later, armed freedom fighters who were persecuted by the US government and the state of North Carolina. While the couple and their children did not know at the time, they were targets of J Edgar Hoover's FBI COINTELPRO illegal operations to target Black political figures and community leaders.
Perhaps what made them high-level targets of J Edgar Hoover and his agents in the FBI documented in Williams's book "Negro With Guns", Williams a Korean war veteran recruited other black military veterans who lived in the area. The group attracted attention by exercising their 2nd amendment rights and gun rights under the open carry laws of North Carolina. Williams said he was forced to organize the community because of the political assault on the civil rights of African Americans and having to defend themselves in the face of white terrorism. North Carolina had the largest Klan membership base than any other state at the time and was aided in their acts of terror often by local police, many klan members themselves.
The Black Armed Guard was able to obtain an NRA membership to legally aide in their self-defense strategy and established the chapter in Monroe, NC. The NRA initially was unaware they were helping to establish an all-black rifle club with U.S. military veterans. Eventually, the Williams family was forced to flee for their lives and freedom from prison slavery and were given refuge in Cuba by Fidel Castro.
ROBERT F. WILLIAMS (1925-1996)
In 1961 Williams and his supporters again tried to integrate the community pool. This time he wound up in an armed standoff with local police and a mob of white citizens. Later that year when the Freedom Rides came to Monroe, Williams organized self-defense groups to protect the riders. As white mobs stormed the black community in the wake of the rides, Williams and his wife left town, but only after allowing a white couple to take refuge in their home. Authorities indicted Williams for kidnapping the couple, forcing him to flee the country and take up residence in Cuba as a guest of Fidel Castro.

From exile in Cuba, Williams continued to circulate the Crusader throughout the South. With Castro's support, he also began broadcasting a weekly radio program, "Radio Free Dixie," that reached thousands of black listeners in the United States despite US government efforts to scramble the signal. Read More.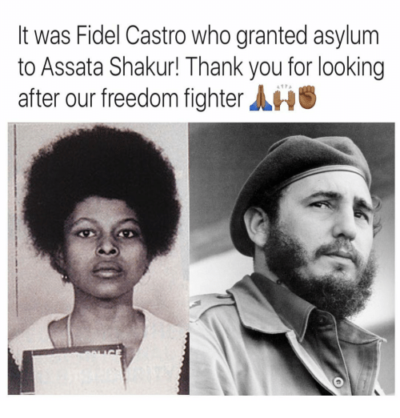 Assata Shakur and Fidel Castro
Assata Shakur was a member of the Black Panther Party and when the organization was being destroyed by J Edgar Hoover and the FBI's illegal COINTELPRO operations including assassinations, killings, beatings, psychological warfare, and frame-ups, she and other former members of the Black Panther Party, Shakur became a founding member and leader of the Black Liberation Army.
After an incident where a New Jersey police officer attempted to murder her and her companions during a traffic stop who himself was killed, after escaping prison with the help of Sundiata Acoli, still a political prisoner to this day, she was forced to flee to Cuba where she was given refuge from the US government and she continues to live in Cuba.
Castro Defends Fugitive Sought by U.S.
"They wanted to portray her as a terrorist, something that was an
injustice, a brutality, an infamous lie," Castro said in a television
address Tuesday night.

While Castro did not identify the woman by name, he was clearly alluding to Assata Shakur – the former Joanne Chesimard – who was put on a U.S. government terrorist watch list May 2. On the same day, New Jersey officials announced a $1 million reward for her capture.

Castro's remarks were his first comment on the new U.S. actions.

A member of the Black Liberation Army, Shakur, 57, was convicted of
killing New Jersey State Trooper Werner Foerster as he lay on the
ground. She escaped from prison in 1979 and fled to Cuba.

Castro referred to her as a victim of "the fierce repression against the
black movement in the United States" and said she had been "a true
political prisoner."

"They have always been hunting her, searching for her because of the
fact that there was an accident in which a policeman died," Castro said, reflecting Shakur's assertion that she did not shoot the officer.

Castro said an appeal for her expulsion had been raised with him several years ago by a woman who was both "a friend of Cuba" and a friend of former President Clinton.

"I transmitted my opinion to the president of the United States," he
said, though he did not specify who raised the issue nor when she
visited. He made clear the case involved New Jersey.

Castro suggested that the action was meant to divert attention from
Cuba's demand that U.S. officials arrest Luis Posada Carriles, who is
wanted in Venezuela on charges of involvement in blowing up a civilian Cuban jetliner in 1976, killing 73 people. Read More.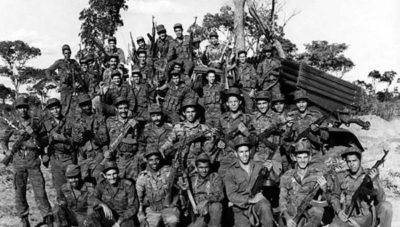 Cuba Played Critical Role In African Freedom Struggles Against Colonialism
When one speaks of the struggle of Africans to gain their independence and freedom from European and American Corporate colonialism, one must acknowledge the role of Castro's Cuba in assisting them.
When Africa Called, Fidel and Cuba Answered
"The Cuban people hold a special place in the hearts of the peoples of Africa. The Cuban internationalists have made a contribution to African independence, freedom, and justice, unparalleled for its principled and selfless character … Cubans came to our region as doctors, teachers, soldiers, agricultural experts, but never as colonizers. They have shared the same trenches with us in the struggle against colonialism, underdevelopment, and apartheid." – Nelson Mandela

Cuban revolutionary leader Fidel Castro instilled in the Cuban people the internationalist spirit Mandela spoke about. The country's dedication to the liberation of Africa is unique in its scope and success. Read More.
Sen. Bernie Sanders, the self-described Democratic Socialist, is far from being a full-fledged socialist revolutionary and attempts to make him out to be one is just more propaganda from the media establishment which is constantly fed to the American people to keep them mentally locked into a system of prison slavery, great wealth inequality and racial injustice. Sanders is a Democratic Socialist along the lines of Dr. Martin Luther King Jr who was calling for the US government to invest in the lives of the poor and working-class people of all racial classifications and was building a movement to address their needs when he was assassinated and much later, a US jury hearing a civil lawsuit about the case determined the US government was linked to his murder.
No one should accept the propaganda of the mainstream media which historically has been a tool of the establishment to lie and misrepresent everything from domestic to foreign affairs. Since the establishment of the so-called "free press" in the United States, it has justified everything from slavery to Jim Crow, from police brutality to the current conditions of prison slavery. For Black people and Black voters specifically, Cuba and Castro should be remembered for their contributions to our freedom struggle against the oppressors who want to divide us and keep things as is in this unjust system run by crooked politicians who are the puppets of US oligarchy. What Sanders is arguing for on behalf of the poor and working-class of this nation is the same thing that Dr. King was arguing for, a kinder and gentler form of inclusive capitalism that doesn't ignore the many in favor of the insane wealth accumulation of the few.
Fear-mongering over Sanders possibly not being able to win Florida because of the dwindling boomer class of racist Cuban rejects centralized around Miami, consider that in recent elections that Democrats have not been able to win Florida's electoral college votes. Consider that younger Cuban-Americans may not share the views of their elders because of the struggles they face as young people shared by the youth that make up a significant portion of Sanders's base and also consider that an estimated 1,686,318 felons in Florida just won a federal court case that ruled that Florida Republican's attempt to prevent them from voting by enacting what amounts to a poll tax, after a voter-approved ballot initiative restored their right to vote, has been ruled unconstitutional.
The political landscape in Florida may yield a different result come November than it has in the past.
---
Support Grassroots Black Media With A Tax Deductible Donation To The Non-Profit, Black Talk Media Project.