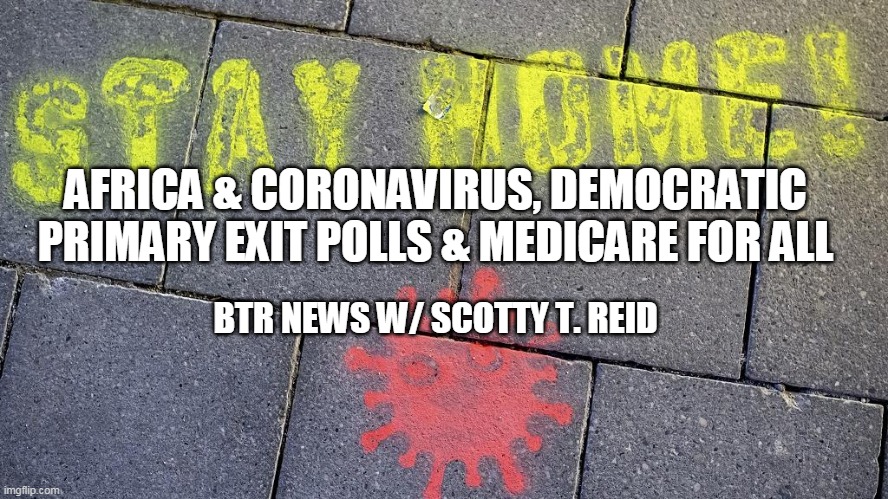 BTR News: Africa & Coronavirus, Democratic Primary Exit Polls & Medicare For All
Podcast: Play in new window | Download (Duration: 2:04:15 — 57.0MB) | Embed
Subscribe: Google Podcasts | Stitcher | Email | TuneIn | RSS | More
Make Tax-deductible Donations To Black Talk Media Project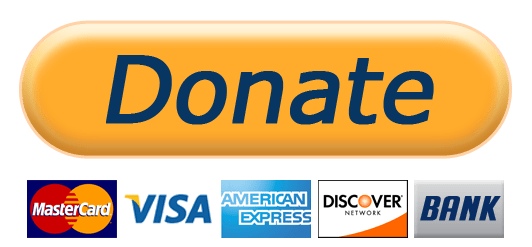 .
---
BTR News will continue is reporting on the Coronavirus (Covid 19) pandemic and tonight we will take a brief look at the virus and African nations and review an article that echos the view of Angel our resident epidemiologist that says the virus has an abnormal pattern of infections.
Exit poll after exit poll during the Democratic primary show that double-digit majorities of voters want Medicare For All, the signature policy of Sen. Bernie Sanders and in polls prior to the primaries, Sanders polls as the most popular Senator in the United States. Among candidates running for the nomination, Sanders was viewed as the most trusted on the issues and the issue of healthcare was the number one issue on the minds of voters so why is Biden racking up strings of wins since South Carolina? Voting results don't seem logical given these polls.
Has voter suppression played a role in the primary with the state branches of the Democratic Party closing polling sites creating long lines in several states and why hasn't liberal MSM made an issue of it like they always do when it comes to general elections?
In the news…
White House confirms US coronavirus test positive rates 'now in the 10%-11% range'
Dr. Deborah Birx warned during a Thursday press conference that 90% of the illness is still "out there" but commended healthcare workers and manufacturers for ramping up testing throughout the country. "The number of test positives is increasing, that is a dramatically important signature that everybody is doing their job," said Birx. "Our test positive rates are now in the 10%-11% range. That still means 90% of the illness is out there."
Biden Silent on Plan That Could Make Coronavirus Vaccine Affordable
Unlike many of the leading Democrats who ran in the presidential primary, former Vice President Joe Biden has not embraced the use of march-in rights against pharmaceutical companies. In October, The Hill surveyed Democratic presidential candidates on their willingness to use march-in rights and found that Sen Bernie Sanders (D-Vt.), Sen. Elizabeth Warren (D-Mass.), Sen. Kamala Harris (D-Calif.) and South Bend, Indiana Mayor Pete Buttigieg either included the idea in their pharmaceutical policy platforms or told the reporters that they were supportive of it.
Cuban drug could save thousands of lives in coronavirus pandemic
So far it is known that one of the drugs manufactured by Cuba, Interferon alfa-2b, has managed to effectively cure more than 1,500 patients from the coronavirus and is one of 30 drugs chosen by the Chinese National Health Commission to combat respiratory disease. It was first developed in 1986 by a team of researchers from the Centre for Genetic Engineering and Biotechnology (CIGB) and introduced into the Cuban health system.
IRAN BACKS CHINA, CALLS TO INVESTIGATE U.S. 'CREATION AND SPREAD' OF CORONAVIRUS
ran has backed China's calls to investigate yet unfounded claims of the United States being the origin of the new coronavirus as an international blame game worsened over a pandemic that has infected more than 200,000 people across the globe. Iranian Supreme National Security Council Secretary Ali Shamkhani lashed out on Twitter Wednesday against what he called the "typical way" in which some U.S. officials have emphasized China and its central Hubei province city of Wuhan as the likely place where the COVID-19 disease began and have blamed both Beijing and Tehran's governments for failing to stop its spread. Shamkhani argued this was being done by U.S. officials done in order to "evade responsibility" themselves.
---
Black Talk Radio Network is once again in danger of shutting down operations as donations fall below the monthly threshold of what is need to keep all our media projects going. If you are one of the tens of thousands who consume media distributed through the network, consider making a tax-deductible monthly financial contribution. Thanks all!