Podcast: Play in new window | Download (0.2KB) | Embed
Subscribe: Apple Podcasts | Android | Email | Google Podcasts | Stitcher | TuneIn | RSS | More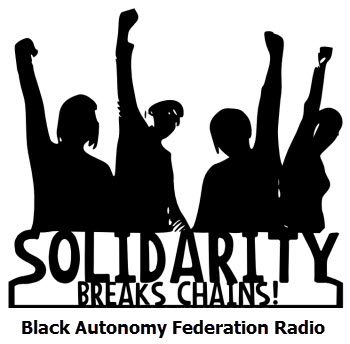 February 8, 2014
What does it mean to organize the "hood"? Join us for part one of our discussion about the strategies and tactics of the Black Autonomy Federation's program to organize and empower poor and low-income people in the black community.
 The ideas of the present Let's Organize the 'Hood–Black Autonomy Federation (BAF) goes back to 1994, when the Black Autonomy Collective was created in Atlanta, Ga., by seven black college students and five community activists. The collective soon spread to ten other cities in the U.S. and Canada and eventually involved several hundred people.
We believe that poor and working class people of African descent are the ones who can free us–not traditional civil rights leaders or politicians. Our first loyalty is to poor and working class black people because that is who we are, but we defend the rights and liberties of working class people of all nationalities. We want a revolution by the poor against the rich.
Join BAF Radio live every Saturday night at 8:00PM EST