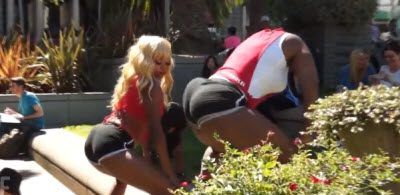 Trio of Black women in San Fran show their assess in public
A trio of Black women in San Francisco have twerking video that is being circulated on social media that show them make asses of themselves doing impromptu twerking in public places calling it a prank. The women can be seen in various public places like public parks, sidewalks, stores and outside of a venue with a long line of white people looking at these women in disbelief. Some look at this public display as being funny and some feminist call it empowering, most think it is ratchedness taken to another level of lewdness.
All we can say is that we will be glad when all this twerking madness is over but don't count on it disappearing anytime soon when you have white pop artists like Miley Cyrus using black women shaking their asses as concert props. Black women, please check on your sisters and get them some help for whatever mental illness befalling them..