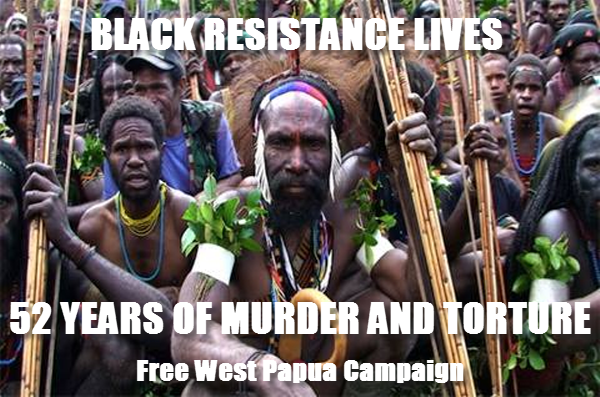 Black people in West Papua fighting their extermination by Indonesia government
[jwplayer mediaid="4962″]
Please watch the short film about West papua.
We want to be a free people!! We need self-determination in West Papua. 52 years now and still they torture and killing us. We are the tribes of West Papua. This is the land of our ancestors. Now there are Indonesia military everywhere. They have no mercy. Always torturing, raping and killing. We need our freedom. This our land, our country West Papua.
Please read this report from the asian human rights commission about a small part of the West Papuan genocide. Many West Papuans have been boiled alive and chopped to pieces whilst they were still alive by the Indonesian military.
The United States has important economic, commercial, and security interests in Indonesia and because of this, the leaders of the United States turn a blind eye to the genocide their partner is committing. Please help us, write, call or email your representatives in congress and tell them to stop funding genocide in West Papua. Contact Congress Now!
Many of the details are too graphic to write here. You can read more in this report. Over 500,000 West Papuans have been killed by the Indonesian government.
http://www.humanrights.asia/resources/books/AHRC-PUB-004-2013