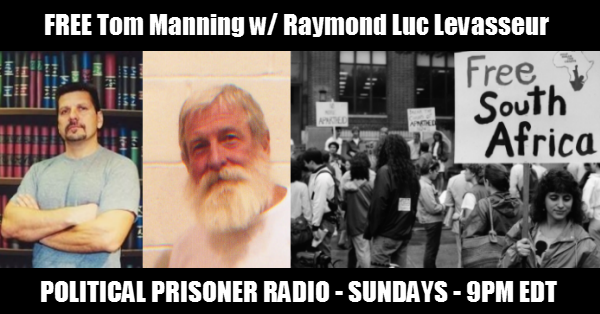 Political Prisoner Radio – Raymond Luc Levasseur, Thomas Manning and police terrorism
Podcast: Play in new window | Download (Duration: 55:33 — 25.4MB) | Embed
Subscribe: Google Podcasts | Stitcher | Email | RSS
Former political prisoner Raymond Luc Levasseur drops in on PP Radio again. Ray was the co-founder of The United Freedom Front which was active during the 1970's and 1980's. The United Freedom Front is most known for its opposition to apartheid in South Africa and its corporate supporters. Mr. Levasseur has been a vocal critic of the New York City Police Department in the past once comparing them to the white supremacist and terrorist organization Klu Klux Klan.
Ray wants the listening audience to become informed about efforts to win the freedom of political prisoner Thomas Manning who is a former member of The UFF. Manning was convicted in the killing of New Jersey police officer Philip Lamonaco. Manning's defense showed that Officer Lamonaco empty his gun in an attempt to kill Manning and those riding in a car pulled over by Lamonaco and Manning acted in self-defense. Manning was sentenced on February 19, 1987 to 58 years in federal prison and spent a little over 27 years in prison.
Political Prisoner Tom Manning is scheduled to see the US Parole Board in November. In a recent letter he asks that people write letters supporting his release on parole. He writes "so if folks can just write their own letters expressing each ones ideas rather than all of them sounding like they read a form letter – so that they put their own voice down on paper."
Please write a letter to support Tom!
Your letter should reference:
Thomas Manning #10373-016
and be sent to:
U.S. Parole Commission
90 K Street, NE, Third Floor
Washington, D.C. 20530
Please make a copy and send it to:
Tom Manning 10373-016
FMC Butner
PO Box 1600
Butner, NC 27509
The New York Post published an editorial calling Sundiata Acoli a "Cop Killer" in a regurgitated anti-Acoli article.
The National Rasmea Defense Committee is traveling with Rasmea Odeh to court in Detroit, Michigan on Oct. 21, 2014 for an important hearing before Judge Drain. They are the public in Detroit to join Rasmea Odeh's supporters for this rally and protest outside the court on Tuesday, Oct. 21, 2014.
The group says, "Palestine solidarity and civil liberty activists from Detroit, Chicago, Minneapolis, Grand Rapids and other Michigan cities will join Rasmea Odeh and pack the courtroom."
The Committee to Stop FBI Repression has issued a call to acition with a phone campaign on behalf of Rasmea Odeh.
Tuesday, Oct. 21: Call the prosecutors and tell them, 'Drop the charges now!' Call Jonathan Tukel in Detroit at 313-226-9100
Chief of National Security Unit, U.S. Attorney's office, Eastern District of Michigan Call Barbara McQuade at 313-226-9501 U.S. Attorney for the Eastern District of Michigan
When you call say, "Hello, my name is ________, and I am calling from _________ to demand that U.S. Attorney McQuade drop the charges against Rasmea Odeh." (First name pronounced Russ-MEE-yuh)
Make the calls! Tuesday, Oct. 21, from 9 am to 5 pm Eastern Time
Political Prisoner Radio is a program that seeks to educate the public on the individual cases of political prisoners and prisoners of war being held by the United States government, many for decades under torturous conditions. It features former political prisoners, advocates, family members and organizations work to free these individuals. The program often discusses the historical political repression and social conditions that existed and still exist within the United States of America.