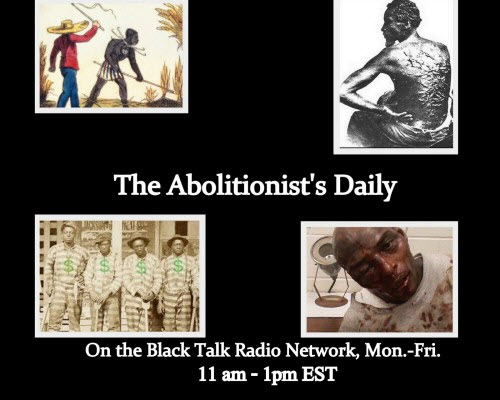 The Abolitionist's Daily- Think Like An Abolitionist
Podcast: Play in new window | Download (0.2KB) | Embed
Subscribe: Google Podcasts | Amazon Music | iHeartRadio | Podchaser | Email | TuneIn | RSS | More
[jwplayer mediaid="11888″]
Download Podcast
April 29,2015
A message to the abolitionists- we are here to change people's minds! Today we'll look at the news and latest reports from Baltimore, as the city continues to let off decades of pent up frustration over racist pattern and practice of the continuing criminal conspiracy to extort funds from people of color and the poor- as well as the continued victimization of these people, as they have lived for generation with the threat of incarceration/modern day enslavement, or extrajudicial murder at the hands of the police and the courts.
Out of Houston, TX., we discuss the story of mentally-ill inmate Deterrius "Terry" Rashad Goodwin, who was left in his cell for weeks in deplorable conditions. A sheriff's office compliance team came through and discovered that his cell was unlivable. They found rotting food covered in bugs, a clogged toilet, feces-smeared walls, and his clothing hanging from the ceiling, presumably because he was contemplating suicide. Two of his jailers, Sgt. Ricky Pickens-Wilson and Sgt. John Figaroa, face third-degree felony charges for tampering with government documents by signing off and claiming they had inspected the cell when they had not. The abolitionist in you should want to see to it that their criminality is thoroughly prosecuted and they pay their debt to society.
We also take a good, long look into Presidential candidate Marco Rubio's history and relationship with private prison companies. Not only has he received big money- but he has has several players from the private prison world into his inner-circle of staff and advisors, all while helping to expand the slave state.