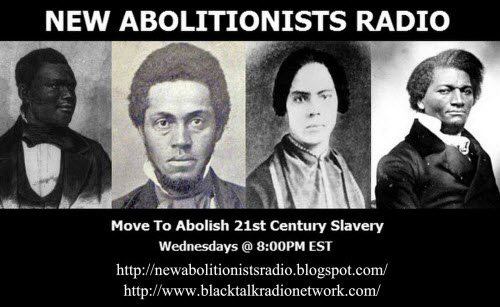 New Abolitionists Radio – A former prison guards perspective on the prison plantation
Podcast: Play in new window | Download (0.2KB) | Embed
Subscribe: Google Podcasts | Stitcher | Email | TuneIn | RSS | More
[jwplayer mediaid="14193″]
Download Podcast
Tonight on New Abolitionists Radio we are joined by former prison guard and military veteran Thomas Sanders. Two weeks ago Thomas briefly explained how things go down from a 1st hand witness's perspective. Last week a power outage forced us to reschedule his return. Don't miss his interview tonight.
• Top prison enslavers and profiteers CCA and GEO group have had a recent quarterly earnings report. Often hearing their reports is like listening to a promise of what new efforts to incarcerate and monitor the population is on the enslavers agendas. Yohanan listened closely and we'll give you the breakdown.
• A new report from the Washington Post shows how the most poorest and crime ridden communities are as lucrative as a condos in the Hamptons. We'll explain how mass incarceration creates 'million dollar blocks' in poor neighborhoods.
• On the 1 year anniversary of the #Ferguson rebellion the city is once again in a state of emergency with multiple shootings, deaths and heavily armed possibly racist militias roaming the streets. Over 100 arrests are reported including notable names like Cornel West and leading journalist. Activists have even shut down a major highway as they demand justice and freedom from oppression & tyranny.
• In our #Ferguson is America series, today we zoom in on the state of Maryland. We're looking at patterns and practices of institutional racism statewide. Fiscal relationships to private, state and federal prisons. Population disparities represented in prisons and jail. Budgets and expenditures. Police forces, business ownership and more.
• This week's Rider of the 21st Century Underground Railroad is Anthony Ray Hinton, 58, who spent half his life on Alabama's death row, sentenced to die for two 1985 murders that for decades he insisted he did not commit.
• Over 28 years, the outside world changed while Hinton spent his days largely in a 5ft by 8ft prison cell. Children grew up. His mother died. His hair turned gray. Inmates he knew were escorted off to the electric chair or the lethal-injection gurney. He was set free on this April after new ballistics tests contradicted the only evidence – an analysis of crime-scene bullets – that connected Hinton to the slayings.
•Our Abolitionist in profile is Anthony Bowen (1805-1872)
Expect all of that and more tonight on New Abolitionists Radio.
---