Podcast: Play in new window | Download (Duration: 1:00:40 — 27.8MB) | Embed
Subscribe: Apple Podcasts | Android | Email | Google Podcasts | Stitcher | RSS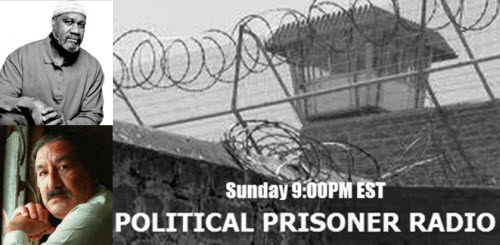 Tune in for an hour of news, information and commentary concerning political prisoners in the USA.
Tonight we will read statements from two political prisoners and analyze the messages they wish to communicate to the masses.
Jalil Abdul Muntaqim aka Anthony Bottom is a former member of both the Black Panther Party and the Black Liberation Army. He is currently a political prisoner. In 1974, Muntaqim was convicted on two counts of murder in the first degree for killing two police officers and received a prison term of twenty-five years to life. Mr. Muntaqim has a blog and tonight we will read and analyze his most recent post Blog #36: #BlackLivesMatter – FORWARD!!!.
Leonard Peltier is a Native American activist and member of the American Indian Movement. In 1977 he was convicted and sentenced to two consecutive terms of life imprisonment for first-degree murder in the shooting of two Federal Bureau of Investigation (FBI) agents during a 1975 conflict on the Pine Ridge Indian Reservation. The International Tribunal of Conscience is being held in New York. New York and Mr. Peltier issued a statement in relation to this event. STATEMENT BY LEONARD PELTIER ON INTERNATIONAL TRIBUNAL OF CONSCIENCE: SEPTEMBER 26, 2015.
A New York-based coffee company thinks it is funny to make light of the victims of mass incarceration policies. A petition has been launched to change their name.
10/3 – Joshua Stafford* #57976-060 USP Tucson P.O. BOX 24550 Tucson, AZ 85734 *Address card/letter to Skelly, envelope to Joshua Stafford.
10/3 – Justin Solondz #98291-011 FCI Oakdale I Post Office Box 5000 Oakdale, Louisiana 71463.

If you want truth and facts vs lies and fiction, support independent media.http://tinyurl.com/fundblackmedia