Podcast: Play in new window | Download (Duration: 55:18 — 25.3MB) | Embed
Subscribe: Apple Podcasts | Android | Email | Google Podcasts | Stitcher | TuneIn | RSS | More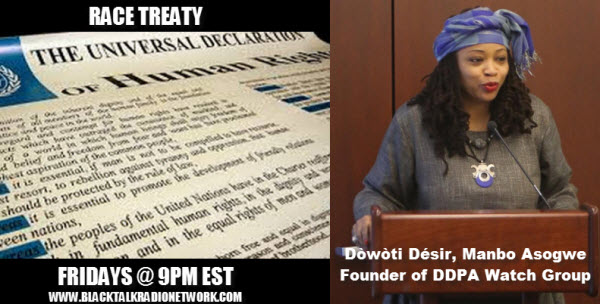 Tune in for an hour of news, information and commentary about human rights and international law.
Tonight we will dialogue with Madam Chairperson Dòwòti Désir,a Manbo Asogwe of the subcommittee to eliminate racism.
Her official bio states, "Manbo Dòwòti Désir is the Founder and President of the DDPA Watch Group, and of the AfroAtlantic Theologies & Treaties Institute (ATI). Manbo Désir is the Chairperson of the Subcommittee for the Elimination of Racism of the NGO Committee on Human Rights, as well as, an NGO Representative of the Drammeh Institute in New York. A writer and journalist, she has focused on the contemporary arts and culture of the African Diaspora; and the religions and sacred arts of the Afro-Atlantic region.
A past Advisor to UNESCO on projects related to the global African community, she is a guest producer of AfrobeatRadio, WBAI 99.5 FM in the United States and is the former Associate Publisher of The AFRIcan Magazine.
The author of a book on monuments and historic sites of the Transatlantic Slave Trade entitled, Goud kase goud: Conjuring Memory in Spaces of the AfroAtlantic, www.conjuringmemory.com, she is a Manbo Asogwe (High Priest) in Haitian Vodou, and a SARE (chief) of the Organization of African Vodou Religions in the Republics of Benin and Togo. Manbo Désir is a graduate of Barnard College, Columbia University and has a Master's degree in contemporary art and critical theory from the Center for Curatorial Studies, Bard College. Visit her website http://www.conjuringmemory.com.
"Race Treaty" will highlight the various and daily violations of International Law as it relates to Racism. This will include White Supremacy as Systemic, Institutional, Structural and Personal/Interpersonal. We will seek to engage Activist, Social Change Agents and other personalities addressing the issue of the "Race Treaty".
If you have a question or comment on air, please get your calls in early!