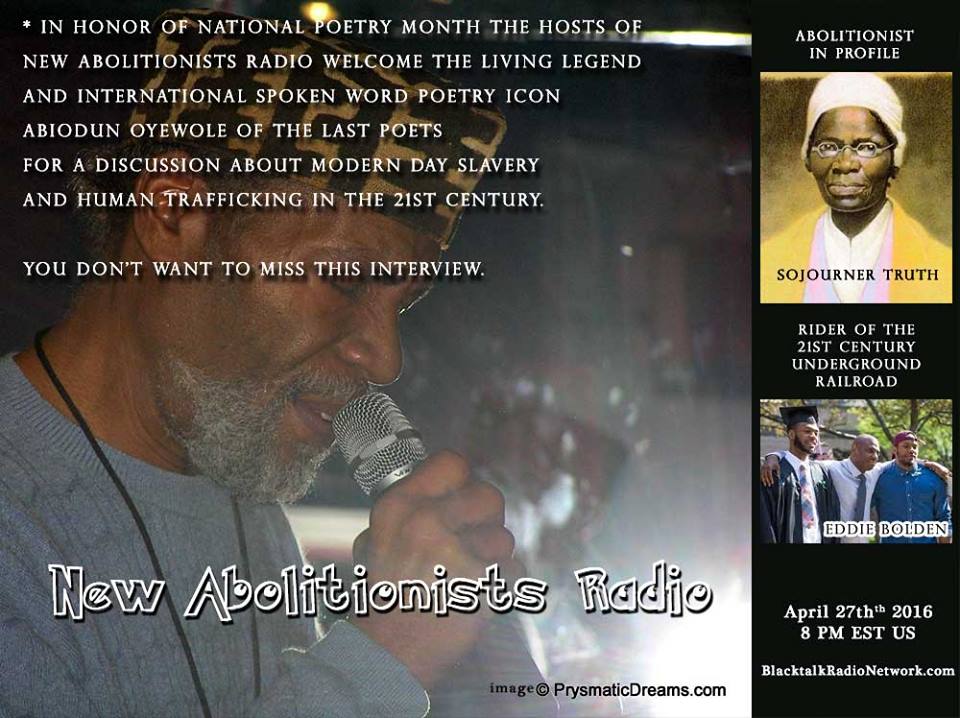 New Abolitionists Radio Weekly 4/27
Podcast: Play in new window | Download (Duration: 1:58:31 — 54.3MB) | Embed
Subscribe: Google Podcasts | Stitcher | Email | TuneIn | RSS | More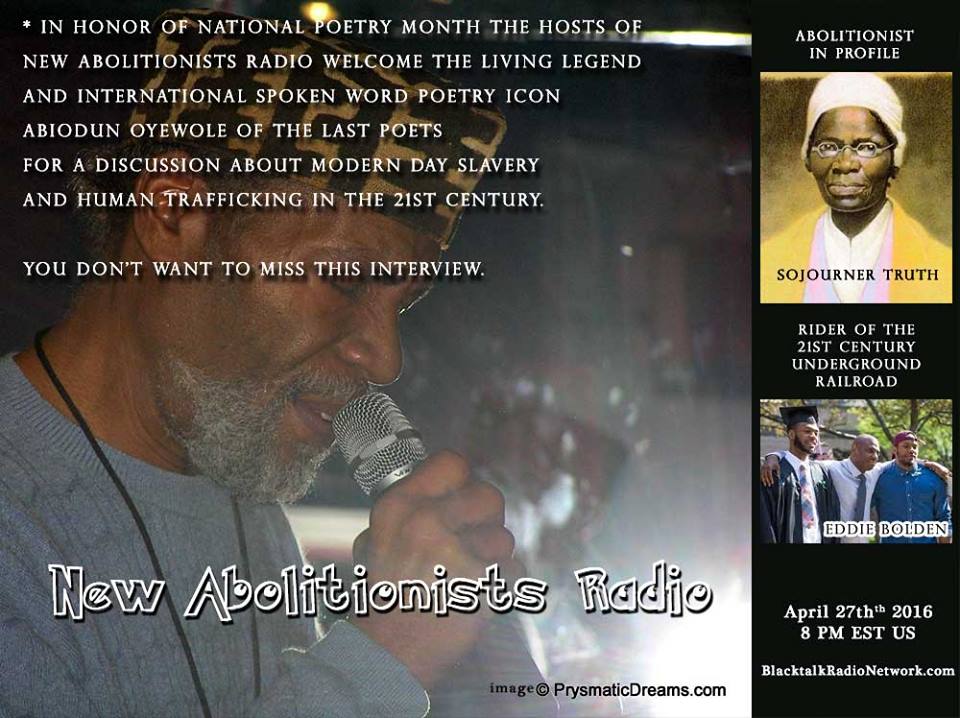 Today is April 27th 2016. Our last program during National Poetry Month 2016. In honor of that we have a special evening planned.
On tonight's broadcast we'll be joined by a much revered guest. Internationally celebrated spoken word icon Abiodun Oyewole Original member of the legendary group The Last Poets.
• Abiodun is a founding member of the American musical spoken word group, The Last Poets. On May 19, 1968, the anniversary of Malcolm X's birthday, Dun and two others David Nelson and Gylan Kain read poetry in tribute to Malcolm X at a memorial for him, and the group was born. The group's message, deeply rooted in Black Nationalism, quickly became recognized within the African American community. The Last Poets along with the artist Gil Scott-Heron are credited as having had a profound effect on the development of hip-hop music. In 1970, the Last Poets were signed by jazz producer Alan Douglas and released their first album. This album includes their classic poem Niggers are Scared of Revolution.
The Last Poets' spoken word albums preceded politically laced Rhythm and Blues projects, such as Marvin Gaye's What's Going On, and foreshadowed the work of hard-hitting rap groups like Public Enemy and Dead Prez.
After being sentenced to four years in a North Carolina prison for larceny, Oyewole was forced to leave The Last Poets. He served two and half years of his sentence and during that time attended a nearby college where he earned his B.A. degree. He went on to earn his Ph.D. from Columbia University in New York City, where he has served as a faculty member. Oyewole rejoined The Last Poets, during its 1990s resurgence. The Last Poets took part in Lollapalooza in 1994 and released a new album entitled Holy Terror in 1995 and a book called On a Mission: Selected Poetry and a History of the Last Poets in 1996. Oyewole continues to tour various venues giving lectures on poetry and politics.
Oyewole lives in New York City.
• If time allows we plan to cover a few important stories, people and events relevant to the abolitionist's movement. Hold onto your chair. Tonight will be powerful and poetic in every sense.
• Our Rider of the 21st century railroad is Eddie Bolden, who had been imprisoned for 22 years and missed out on many moments with his son Dominique "Dom". Eddie had been wrongfully convicted of killing two men. He was exonerated this year but it wasn't until last week that he had been freed. His release was just in time to be there for Dom's graduation.
• Our abolitionist in profile comes courtesy of tonight's guest Abiodun Oyewole and is Sojourner Truth, born Isabella ("Bell") Baumfree; c. 1797 – November 26, 1883. An African-American abolitionist and women's rights activist. Truth was born into slavery in Swartekill, Ulster County, New York, but escaped with her infant daughter to freedom in 1826. After going to court to recover her son, in 1828 she became the first black woman to win such a case against a white man.
Expect all of that and more tonight on New Abolitionists Radio
We invite you to join the conversation by calling us at 1-641-715-3660 ext. 549032#, Press *6 & 1 to que up from the conference line