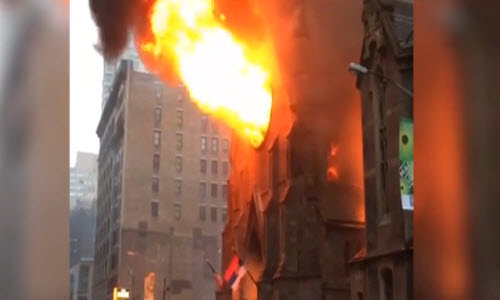 "Mohamed" Claims Responsibility For NYC Serbian Orthodox Cathedral of St. Sava Burning
By Scotty Reid – An edit claiming responsibility for "terrorism was made to the Wiki-page of a historic church in New York City now named the Serbian Orthodox Cathedral of St. Sava.
The 150 year old church sits in 15 West 25th St. in Manhattan and reports say the fire got out of control and spread quickly. Until an investigation is completed determining the cause of the blaze, everything is this point in time is pure speculation. However, a strange entry was observed on the Wikipedia page for the church apparently undiscovered by the Wiki-editors on the morning of the fire.
It should be noted that it is easy to create a Wikipedia user account and make edits and they are usually fact checked by the Wikipedia community. While the edit would suggest the fire is an act of terrorism by someone named "mohamed" with an Oman country code, it should largely be assumed at this point to be a hoax made by anyone for any number of reasons like Xenophobia, Islamophobia and White Supremacy.
There have been no reported injuries at the time of this article.
---