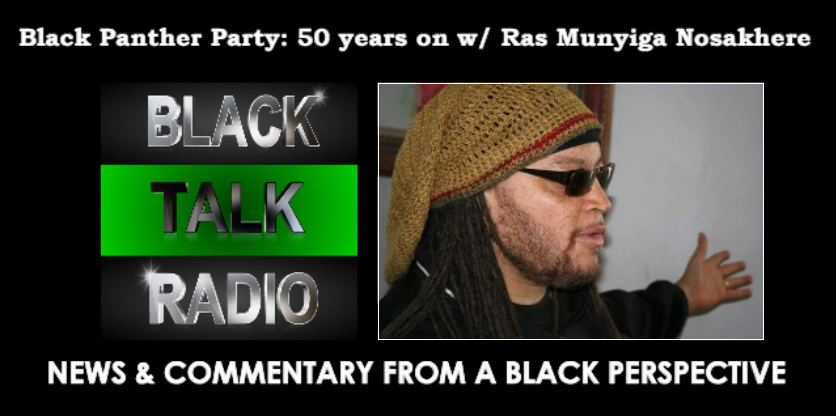 BTR News – Black Panther Party: 50 years on w/ Ras Munyiga Nosakhere
Podcast: Play in new window | Download (Duration: 1:56:47 — 53.5MB) | Embed
Subscribe: Google Podcasts | Stitcher | Email | TuneIn | RSS | More
Tune in for an hour or more of news and commentary from a Black perspective.
Today during the second half-hour, we will be joined by veteran activist/revolutionary Ras Munyiga Nosakhere. He was exposed to Black Panther Party though one of its programs for students in Compton, California.
Ras is a member, co-founder, organizer and presently International Coordinator within the Black Autonomy Federation. He is the former program coordinator of the Black Community Youth & Resource Center in Regina Saskatchewan, and was active in several Black Revolutionary Nationalist groups in the early 70's.
Born and raised in Southern California within the Compton, Watts and LA areas: Munyiga started with the LA Chapter Black Panther Party as a youth, to leadership within Black Student Organizations in High School, to the Black Student Union, while in University. He worked with Michael Zinzun as an Organizer of the Los Angeles based Coalition Against Police Abuse and RAM. In the Eighties he became attracted to the ideals of anti-authoritarian class based revolutionary anarchism, and has worked tirelessly in projects benefiting the African Black Working class and poor. He has over 45 years of organizing experience. He has worked behind the scenes in building many community, youth and student organizations. (In both Canada and Throughout North America) He lives and works in Regina, Saskatchewan, and still very much active in grassroots based, autonomous community organizing.
We will get his thoughts today as we reflect on the 50 years since the founding of the Black Panther Party by Bobby Seale and Huey P. Newton.
---