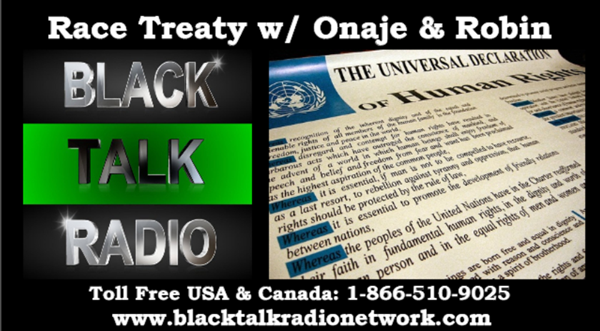 Race Treaty – Assessing the Black Human Rights Movement II
Podcast: Play in new window | Download (Duration: 1:56:24 — 53.3MB) | Embed
Subscribe: Google Podcasts | iHeartRadio | Stitcher | Email | TuneIn | RSS | More
This week we continue the panel discussion led by co-hosts Robin Benton and Onaje Muid last week. We held a lively discussion on what was accomplished in 2016 and some of the things people of African Descent most continue to do looking outside of the United States and its Constitution and heeding Malcolm X's advice in moving the Black struggle into the arena of human rights as opposed to civil rights. People of African Descent in the Americas have continually struggled for their human rights for 400 plus years.
In the year of 2016 significant accomplishments and set backs did occurred but there was movement on in the struggle nonetheless. Tonight's guests like last weeks guests have been key players in defining, shaping and advancing this black human rights movement. They will report out on these developments and the plans and challenges for 2017.
Toll Free USA & Canada: 1-866-510-9025 or 704-802-5056
To Enter Question/Comment Cue Enter: Star-Star & Watch Your Background Noise!
---