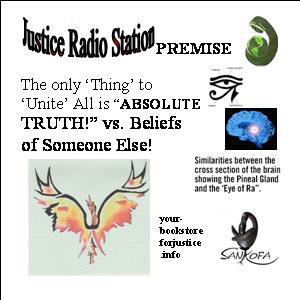 Jailhouse Psychotherapy-Only 'Thing' to Unite All is "ABSOLUTE TRUTH"!
Podcast: Play in new window | Download (Duration: 1:06:53 — 61.3MB) | Embed
Subscribe: Google Podcasts | iHeartRadio | Stitcher | Email | TuneIn | RSS | More
Greetings Family,
REMEMBERING WHO "I" IS!
START WITH THE SOURCE…ABSOLUTE TRUTH
know that there is only ONE POWER, THE
INFINITE OMNIPOTENT ONE.
Know there appears to be another source, the universal mind, which thinks and can only know limitations and opposition.
Know that thoughts will always limit one by keeping All knowledge apparently out of awareness (repression) and make believe the source of problems is outside (projection). Therefore I should always ask the question: In what ways do thoughts and beliefs limit "I"?
Question all beliefs and thoughts for no thought or belief is true as thought is not power.
Always ask the question "Is what I believe, think, feel or perceive absolutely true?" For only Absolute Truth is true. Anything else is not true, hence not real and non-existent.
Know that eternal Absolute alone exists and is all that exists and that is what I Am. 18. Be still and know I Am Stillness, Quietness Peace.
Thanks for the emails, encouragement and opportunities to create a Socialization Process of Justice, Absolute Truth.
democracyversusjustice@gmail.com