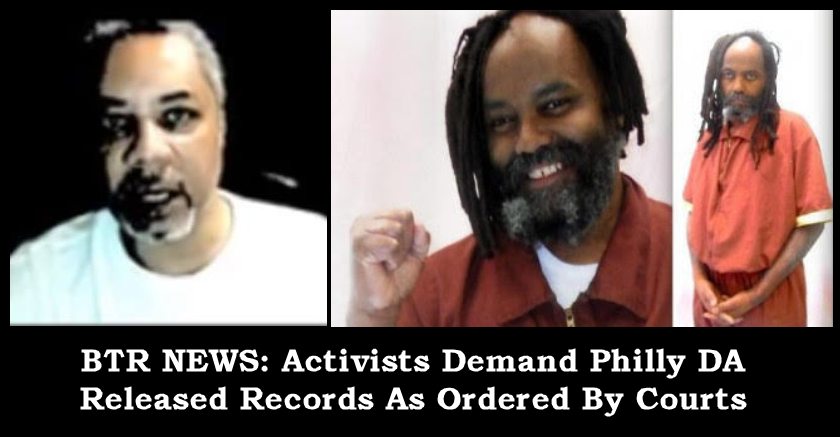 BTR NEWS: Activists Demand Philly DA Release Records As Ordered By Courts
Podcast: Play in new window | Download (Duration: 11:30 — 5.3MB) | Embed
Subscribe: Google Podcasts | Stitcher | Email | TuneIn | RSS | More
BTR News – In the state of Pennsylvania on May 30th, a Tuesday, there will A DAY OF ACTION FOR Imprisoned Political Prisoner, Human Rights Activist and journalist MUMIA ABU-JAMAL!
A 2 PM press conference and rally at the Philadelphia DA's office is scheduled in the City of Brotherly Love, the once so-called capital of a hypocritical nation still practicing slavery and a master slaver named George Washington living with slaves in the city's famed President's House.
The aim of this lawful and righteous demonstration is to pressure DA's office to release documents pertaining to former Philly DA Ron Castille's handling of Mumia Abu-Jamal's appeals.
The Mobilization For Mumia, a coalition of human rights groups in support of political prisoner Mumia Abu-Jamal are asking the public to call the Philly DA's office to demand the release of all files in the Abu-Jamal case, as well as the files of these 16 other cases, all of which were heard on April 24, 2017. Philly Da's office is located at 3 S. Penn Square, Philadelphia, PA 19107 and the phone is (215) 686-8000.
---
Scotty T. Reid has been writing and podcasting about social/political issues since 2007 and is the producer of several successful digital radio programs and the founder of a non-profit new media organization. He is a United States veteran of the Gulf War and one of the many descendants of American Revolutionary Samuel Rankin of Gaston County & Tryon County, North Carolina.
You can Support BTR News Today By Making A Financial Contribution To The Non-Profit Black Talk Media Project. Thank You For Your Contribution In Support Of Independent Media https://tinyurl.com/fundindymedia!
---