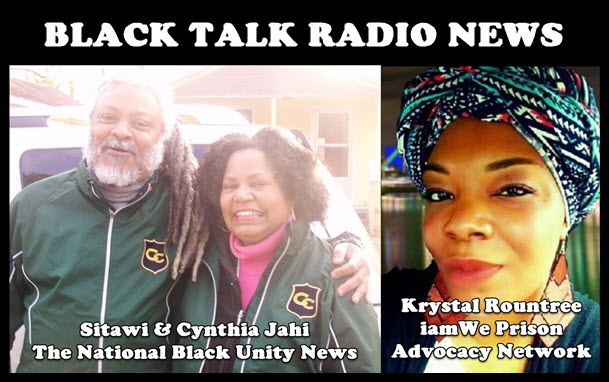 BTR News: Creating National Black News Media & The Move To Abolish Prison Slavery w/ Baba Jahi & Krystal Rountree
Podcast: Play in new window | Download (Duration: 2:03:17 — 56.5MB) | Embed
Subscribe: Google Podcasts | Stitcher | Email | TuneIn | RSS | More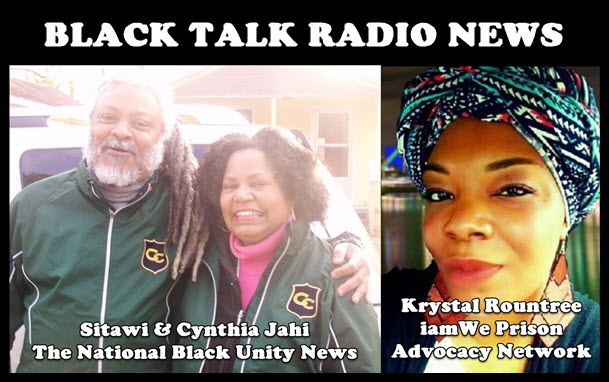 Tune in for news, information, and commentary from a Black Abolitionist's perspective.
1st Hour: Mr. Baba Jahi of Movements Unlimited organization will join us to discuss a black news project he and his wife are a part of called The National Black Unity News. Mr. and Mrs. Jahi, are the National Travel editors for the paper which will be available in different formats. Mr. Jahi on the mission of this project says, "Mission of the paper is to promote Unity in the National African American community and the world African community. To bring forth information that is not covered in mainstream media that helps our community grow and develop."
2nd Hour: During the second hour we will hear from Ms. Krystal Rountree. Ms. Rountree is the CoFounder/Director of iamWE Prison Advocacy Network and the Chairperson of the Millions for Prisoners Human Rights Organizing Committee which has organized the upcoming Millions for Prisoner's Human Rights Rally & March which will take place in Washington, DC on August 19, 2017.
The author Scotty T. Reid has been writing and podcasting about social/political issues since 2007 and is the producer of several successful digital radio programs and the founder of the non-profit new media education organization Black Talk Media Project and the Black Talk Radio Network. He is part of the New Abolitionists Movement to abolish slavery in the United States as permitted by the 13th Amendment of the US Constitution. He is a United States Army veteran, serving a tour in the Gulf War and one of the many descendants of American Revolutionary Samuel Rankin that still reside in Gaston County, North Carolina. He is also a descendant of Afro-Americans of North Carolina and the Cherokee tribes of Western North Carolina. He considers the Autobiography of Malcolm X to be the greatest influence on his life.
You Can Support BTR News Today By Making A Financial Contribution To The Non-Profit Black Talk Media Project. Thank You For Your Contribution In Support Of Independent Media Click Here To Donate!
Black Talk Media Project, PO Box 65, Mt. Holly, NC 28120-0065
---