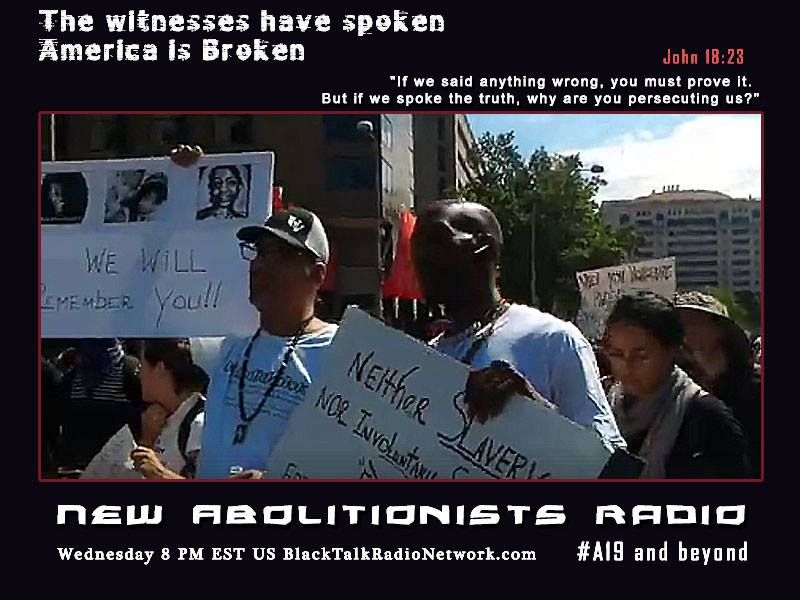 New Abolitionists Radio: Review Of The Historic National Gatherings Around The Issue Of Legalized Slavery #A19
Podcast: Play in new window | Download (Duration: 3:09:41 — 86.8MB) | Embed
Subscribe: Google Podcasts | Stitcher | Email | TuneIn | RSS | More
Peace and welcome to New Abolitionists Radio on the Black Talk Radio Network. A program that seeks to educate, inform and agitate on the issue of 21st Century Legalized Slavery. The Program Is Currently Hosted by Social Activist & Spoken Word Poet Max Parthas and Black Talk Media Project founder Scotty Reid.
On this program, we discuss recent news on legalized 21st Slavery and Human Trafficking along with projects & people who help combat it. Today is the August, 23rd, 2017 broadcast of New Abolitionists Radio. The Millions for Prisoners March on Washington August 19th is done. The largest national gathering of Slavery Abolitionists in US History happened. The witnesses have spoken and America is broken.
• On this day in 1861 – James Stone was the first black man signed on to fight in the Civil War. James Stone, a light skinned fugitive slave passing for white, enlisted in the First Fight Artillery of Ohio. His racial identity would not be known until his death nearly a year later.
• As we did right before the March and Rally we're opening the lines for the whole show and inviting organizers and supporters nationwide to join the conversation. Call in and share your experiences.
• Today we begin a new segment hosted by Yusuf Hassan where we will read, examine and discuss the US constitutional rights of all citizens and how they tie into slavery both past and present.
• Our Abolitionist in Profile and the segment 'For Freedom's Sake. A History of Rebellion.' will be combined into one segment.
We will be remembering Nat Turner's Rebellion which was divinely inspired by the solar eclipse occurring On August 21, 1831.
• Our Rider of the 21st Century Underground Railroad is 61-year-old Ledora Watkins. "Watkins was released on June 15th, 2017 after serving 42 years for a robbery and murder he did not commit" and is the longest serving inmate to be exonerated in Michigan.
Have a question or comment? Were you at one of the marches? You can call in Toll-Free USA: 1-866-510-9025, You can chat with us and others by logging in at
uberconference.com/blacktalkradionetwork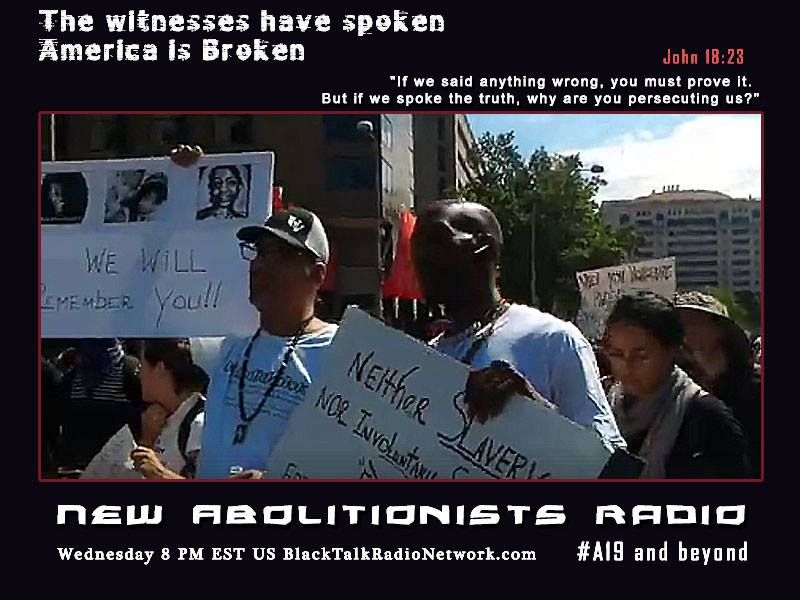 Contact the host and producer:
[contact-form to='blacktalkradiobaby@gmail.com' subject='New Abolitionists Radio Comment'][contact-field label='Name' type='name' required='1'/][contact-field label='Email' type='email' required='1'/][contact-field label='Comment' type='textarea' required='1'/][/contact-form]
---
Thank You For Your Contribution In Support Of Independent Media