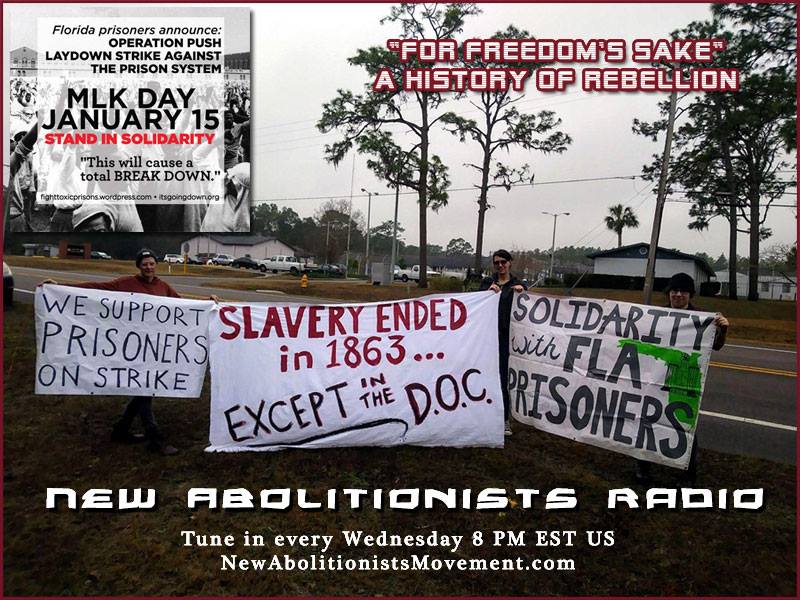 New Abolitionists Radio: Prisoners Striking Against US Prison Slavery
Podcast: Play in new window | Download (Duration: 1:56:53 — 53.5MB) | Embed
Subscribe: Google Podcasts | Email | TuneIn | RSS | More
---
This is our January 17th, 2018 broadcast in our 6th season.
On this day in history in 1961, Eisenhower gave his farewell speech warning America of the "Military-Industrial Complex".
1893 On the Hawaiian Islands, a group of American sugar planters under Sanford Ballard Dole overthrow Queen Liliuokalani, the Hawaiian monarchy, and establish a new provincial government with Dole as president.
1759 Abolitionist Paul Cuffee was born on the tiny island of Cuttyhunk, eleven miles offshore of New Bedford, MA. He was the seventh of ten children of Kofi Slocum, a freed African slave, and Ruth Moses, a Wampanoag Indian.
• Our abolitionist in profile the Reverend Edward Scott. Circa 1857. All we have of him is a couple of his speeches. One of which we will read tonight and addresses Christianity
• In the segment; "For Freedom's Sake" A History of rebellion, we honor Operation PUSH. Where prisoners began a slave labor work strike on Martin Luther King Jr. Day 2018 to protest "prison slavery" and "deplorable conditions within FL prisons.
• Our Rider of the 21st-century Underground Railroad is Kirstin Lobato. Last week, with help from the Innocence Project, Lobato was declared innocent and freed when the County District Attorney's Office moved to dismiss all charges related to the 2001 murder.
• As usual, we'll dissect and disseminate current news and events related to 13TH amendment slavery from the perspectives of abolitionists.
Contact the host and producer:
[contact-form to='blacktalkradiobaby@gmail.com' subject='New Abolitionists Radio Comment'][contact-field label='Name' type='name' required='1'/][contact-field label='Email' type='email' required='1'/][contact-field label='Comment' type='textarea' required='1'/][/contact-form]