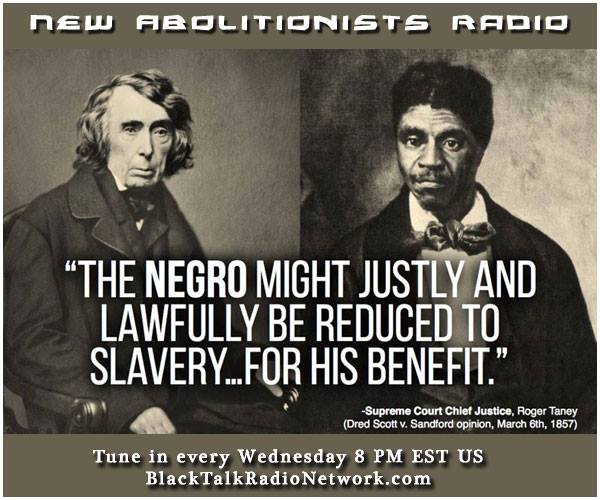 New Abolitionists Radio: News From The Perspective of 13th Amendment Slavery
Podcast: Play in new window | Download (Duration: 1:57:53 — 54.0MB) | Embed
Subscribe: Google Podcasts | Stitcher | Email | TuneIn | RSS | More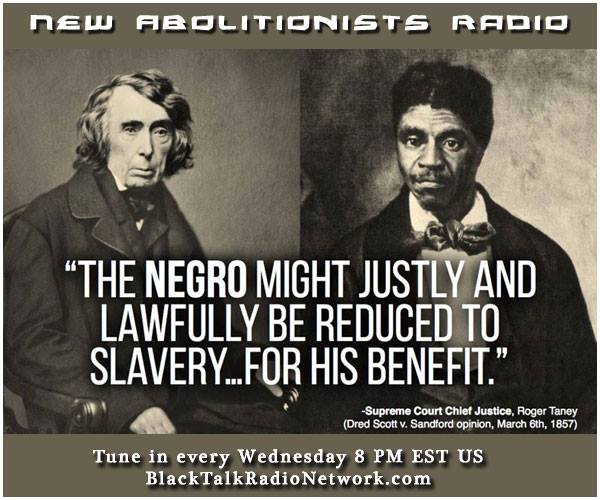 8 PM EST US Today is the March 7th, 2018 broadcast of New Abolitionists Radio in our 6th season.
On and near this day in history.
• March 6th of 1857, the United States Supreme Court, led by Chief Justice Roger B. Taney, declared that all blacks — slaves as well as free — were not and could never become citizens of the United States. The court also declared the 1820 Missouri Compromise unconstitutional, thus permitting slavery in all of the country's territories.
Taney — a staunch supporter of slavery and intent on protecting southerners from northern aggression — wrote in the Court's majority opinion that, because Scott was black, he was not a citizen and therefore had no right to sue. The framers of the Constitution, he wrote, believed that blacks "had no rights which the white man was bound to respect; and that the negro might justly and lawfully be reduced to slavery for his benefit. He was bought and sold and treated as an ordinary article of merchandise and traffic, whenever profit could be made by it.".
• Also, Harriett Tubman died on 10 March 1913 after suffering from pneumonia. After her death, she was buried in Fort Hill Cemetery in Auburn with military honors. During the fugitive slave laws, the bounty on Harriet Tubman's head was higher than that of John Wilks Booth who assassinated President Lincoln.
• Tonight, we have guests from our comrades at IWOC. The Incarcerated Workers Organizing Committee which is a project of the Industrial Workers of the World. Its purpose is to unionize incarcerated individuals.
On September 9, 2016, the IWOC helped organize a U.S. prison strike on the 45th anniversary of the Attica uprising. The strike involved an estimated 24,000 prisoners in 24 states, the largest prison strike in U.S. history and what some say is the largest slavery rebellion since the civil war.
We welcome Diana and Jocelyn. Diana was born and raised in the so-called mex/us borderlands and is committed to pushing anti-colonial work that moves us towards the abolition of all kinds of walls. She also organizes with IWOC NYC. Jocelyn Cohn is an organizer with the Incarcerated Worker's Organizing Committee and a holistic healthcare worker. They will speak to us about some upcoming events.
• Our abolitionist in profile tonight is Araminta "Minty" Ross. Better known as the one a, d only Harriet Tubman. Born 1820; Dorchester County, Maryland and joined the ancestors on March 10, 1913 in Auburn, New York.
• In the segment; "For Freedom's Sake" A History of rebellion, we remember Gaspar Yanga, the leader of one of the greatest slave rebellions in North America.
• Our Rider of the 21st-century Underground Railroad is Alfred Swinton. On March 1st 2018 a Connecticut judge dismissed the 1991 murder indictment against him. Swinton is the 30th person to have been wrongly convicted or indicted based at least in part on bite mark analysis, yet courts continue to allow prosecutors to rely on the widely discredited evidence. Swinton, whose 2001 conviction was vacated back in June 2017, wrongly served 16 years.
• As usual, we'll dissect and disseminate current news and events related to 13TH amendment slavery from the perspectives of slavery abolitionists. So let's get started.