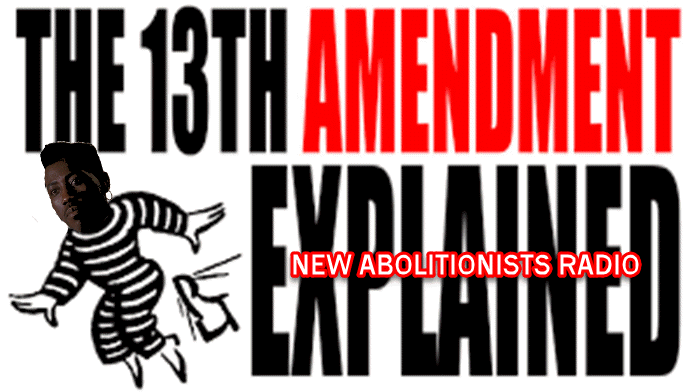 New Abolitionists Radio: Celebrate Junteenth But Keep In Mind The Contradiction Of The 13th
Podcast: Play in new window | Download (Duration: 1:54:16 — 52.3MB) | Embed
Subscribe: Google Podcasts | Stitcher | Email | TuneIn | RSS | More
---
Today is the June 13th, 2018 broadcast of New Abolitionists Radio.
On and near this day in history.
• On June 13th, 1967. President Lyndon Johnson appointed U.S. Court of Appeals Judge Thurgood Marshall to fill the seat of retiring Supreme Court Associate Justice Tom C. Clark. On August 30, after a heated debate, the Senate confirmed Marshall's nomination by a vote of 69 to 11. Two days later, he was sworn in by Chief Justice Earl Warren, making him the first African American in history to sit on America's highest court.
The great-grandson of slaves, Marshall was born in Baltimore, Maryland, in 1908. In 1933, after studying under the tutelage of civil liberties lawyer Charles H. Houston, he received his law degree from Howard University in Washington, D.C. In 1936, he joined the legal division of the National Association for the Advancement of Colored People (NAACP), of which Houston was a director, and two years later succeeded his mentor in the organization's top legal post.
It should be noted with shame and sadness that Thurgood Marshall Jr., the son of late Supreme Court Justice Thurgood Marshall served 15 years on the Corecivic Inc (NYSE: CXW) Board of Trustees. The largest private prison company in the world.
• On June 12th, Medgar Evers, civil rights activist, was assassinated. 1926-1963. In 1954, when the U.S. Supreme Court ruled in Brown v. Board of Education to end segregation in schools, Medgar Evers was an insurance salesman and an activist with the Regional Council of Negro Leadership in Mississippi. He submitted an application to the University of Mississippi Law School, which was rejected. The NAACP named Evers its first state field secretary in Mississippi, where he played an integral role in the civil rights movement — organizing investigations into crimes against blacks (such as the murder of Emmett Till), demonstrations (including "wade-ins" at Biloxi's segregated beaches), and boycotts of companies that discriminated.
Evers' family was often targeted by segregationists, and in 1963 a firebomb destroyed his house. Later that year he was shot and killed in his own driveway. A sergeant in the U.S. Army during World War II, Evers was buried in Arlington National Cemetery with full military honors.
The Civil Rights Act of 1964 gained support from national outrage over Evers' murder. Byron De La Beckwith, a member of the racist White Citizens' Council, was tried twice for Evers' murder; two all-white juries returned deadlocked verdicts. De La Beckwith was tried a third time three decades later, in 1994, and found guilty.
In direct action news.
• We want to continue to remind you about a Call for a #Juneteenth 2018 Mobilization Against Prison Slavery from SPARC This year. Supporters of#OperationPUSH, are calling on all opponents of mass incarceration and modern-day slavery internationally to honor the Juneteenth holiday (Next week. Tuesday, June 19,) with community organizing and direct action.
• Another reminder. A NATIONWIDE prison slave labor work strike is being called for on August 21st through September 9th. If you know someone inside, tell them what's going on.
• And finally, the RIGHT 2 VOTE CAMPAIGN
Needs your support. It is a nationwide campaign being initiated by people currently confined in the United States. This campaign grew out of the August 21 National Prison Strike Demands, specifical,ly point #10: The voting rights of all confined citizens serving prison sentences, pretrial detainees, and so-called "ex-felons" must be counted. Representation is demanded.
• Our abolitionist in profile is Maria Stewart. (1803 – December 17, 1879)
One of her era's most effective anti-slavery voices, breaking boundaries for women even as she advocated for an end to a brutal institution. She was an American domestic servant who became a teacher, journalist, lecturer, abolitionist, and women's rights activist.
• Our Riders of the 21st-century Underground Railroad are Anthony Jakes and Robert Bouto. They spent 45 years in prison combined, serving their full sentences before having their convictions vacated in April of 2018.
• We have no guests tonight, so well cover the information, paint the pictures from the perspectives of slavery abolitionists, and try and make sense of it all. As always, our list of stories and articles exceeds our allotted time.
Be sure to follow the information we provide on our FB page at New Abolitionists radio so you can see it in real time as we talk about the stories. Also, remember to support our efforts by joining us as a member at community.blacktalkradionetwork.com
You'll find the links for today's program on our Abolitionists Planning Page.