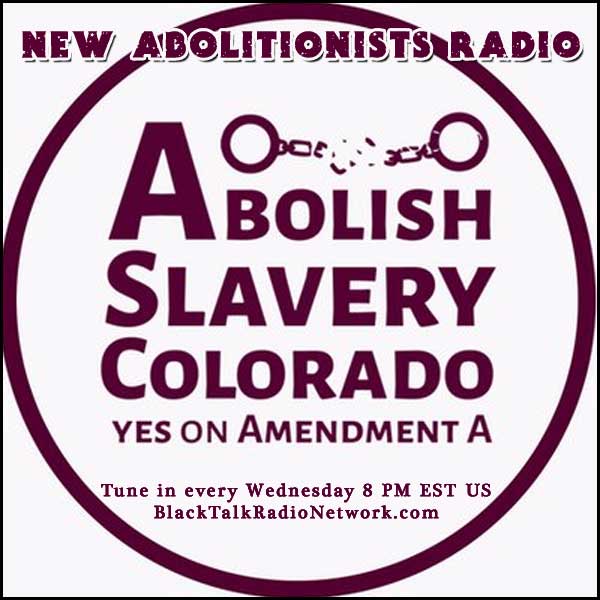 New Abolitionists Radio: Because Someone Has To End Slavery, Why Not You?
Podcast: Play in new window | Download (Duration: 1:57:50 — 54.0MB) | Embed
Subscribe: Google Podcasts | Stitcher | Email | TuneIn | RSS | More
---
Today is the 2018 live broadcast of New Abolitionists Radio
On the 1st day of black August.
http://blacktalkradionetwork.com/page/newabolitionistsradio
• In our lead story, Colorado abolitionists take amendment T, streamline it and put it on the ballot as Amendment A for 2018. For those who aren't familiar, amendment T and A are both voter initiatives to remove the slavery exception clause from the Colorado state constitution. Should they succeed it would make them only the 2nd state in the union to formally abolish slavery without a caveat.
http://www.foxnews.com/politics/2018/07/30/colorado-ballot-measure-would-remove-slavery-from-state-constitution.html
• We'll cover two new documentaries which have been released.
The Trayvon Martin Story and Stranger Fruit, The Mike Brown Story.
http://act.colorofchange.org/sign/reopen-local-investigation-fatal-shooting-mike-brown?source=fb_stage1_multiplecampaigns

• And of course, we've got a ton of important articles about the system of legalized slavery and those who keep it running smoothly.
On and near this day in history.
• Slavery Abolition Act, (1833), in British history, an act of Parliament that abolished slavery in most British colonies, freeing more than 800,000 enslaved Africans in the Caribbean and South Africa as well as a small number in Canada. It received Royal Assent on August 28, 1833, and took effect on August 1, 1834.
http://spartacus-educational.com/Lslavery33.htm
• On August 1st, 1498 Italian explorer, murderer and thief, Christopher Columbus set foot on the American mainland for the first time, at the Paria Peninsula in present-day Venezuela. Thinking it an island, he christened it Isla Santa and claimed it for Spain.
https://www.history.com/this-day-in-history/columbus-lands-in-south-america
• On August 2nd, 1924, Poet, Writer and activist James Baldwin was born In NY.
https://www.poetryfoundation.org/poets/james-baldwin
• Also, on August 2nd, in 1920, Marcus Garvey presented his "Back To Africa" program in New York City.
Marcus Garvey Presents His "Back to Africa" Program in New York This Day in 1920
In direct-action news.
• A NATIONWIDE prison slave labor work strike is being called for on August 21st through September 9th. If you know someone inside, tell them what's going on. If you want to help from the outside contact organizers at iamweubuntu@gmail.com
https://incarceratedworkers.org/campaigns/prison-strike-2018
• The RIGHT 2 VOTE CAMPAIGN
Needs your support. It is a nationwide campaign being initiated by people currently confined in the United States. This campaign grew out of the August 21 National Prison Strike Demands, specifically, point #10: The voting rights of all confined citizens serving prison sentences, pretrial detainees, and so-called "ex-felons" must be counted. Representation is demanded.
• Our Abolitionists in profile tonight is the Warsaw Abolitionists Society of NY who formed an abolitionist political party and presented a presidential nominee.
http://www.thedailynewsonline.com/apps/pbcs.dll/article?avis=WD&date=20180729&category=BDN05&lopenr=180728635&Ref=AR
• Our Rider of the 21st-century Underground Railroad today is Shawn Williams. A Brooklyn man who spent the last 24 years behind bars. Shawn walked free Friday after a judge tossed out the indictment that put him there.
https://nypost.com/2018/07/13/man-set-free-after-disgraced-detective-cost-him-24-years-behind-bars/
As always we have a little time and a lot of information.
Be sure to follow the information we provide on our FB page at New Abolitionists Radio so you can see it in real time as we talk about the stories.
Also, remember to support our efforts by joining us as a member at www.community.blacktalkradionetwork.com
Your support is even more crucial today. It's ride or die season.
You'll find the links for today's program on our Abolitionists Planning Page which is available to BTR Community members.
https://www.community.blacktalkradionetwork.com/index.php/groups/viewdiscussion/143-nar-planning-august-1st-2018?groupid=1
New Abolitionists Radio is an award-winning weekly radio broadcast and podcast series started in 2012 to bring awareness to legalized slavery and human trafficking in the United States which is inadequately referred to as "mass incarceration".

The 13th Amendment of the US Consitution did end slavery when it carves out the exception clause that led directly to Jim Crow laws across the country, primarily in the South to target the  large African-American populations the vast majority who were formerly enslaved and put them into what became known as the convict leasing system which is still in practice in less barbaric ways than in the 1800s. Because of the 13th Amendment, all persons of every age, sex, gender, race, religion or national origin can legally become of slaves regardless of guilt or innocence.
---
Contact the host and producer:
[contact-form to='blacktalkradiobaby@gmail.com' subject='New Abolitionists Radio Comment'][contact-field label='Name' type='name' required='1'/][contact-field label='Email' type='email' required='1'/][contact-field label='Comment' type='textarea' required='1'/][/contact-form]