Podcast: Play in new window | Download (Duration: 27:55 — 12.9MB) | Embed
Subscribe: Apple Podcasts | Android | Email | Google Podcasts | Stitcher | TuneIn | RSS | More

BTR News – Welcome to another BTR News w/ Scotty Reid segment. BTR News Contributor Kwabena Rasuli, the founder of Clear The Airwaves Project, a radio DJ joined the podcast. We are in conversation about the launch of the "Respect Us Campaign" which kicked off on Saturday, March 16, 2019, with a public forum in New York City that was broadcast on WBAI FM radio. The campaign is sponsored in part by National Congress of Black Women and National Black Leadership Alliance.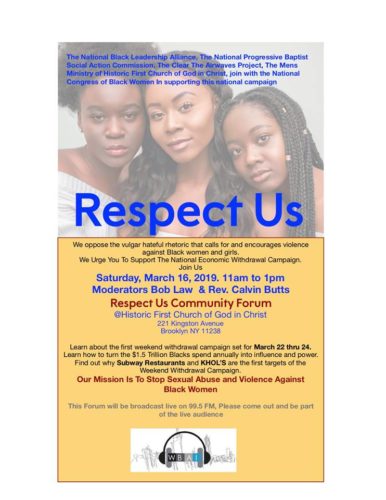 An appeal was made to the Black listening audience to participate in what they are calling "Sanction Sunday,". The very next day on Sunday, March 17, Participating church pastors called on their congregations to withdraw their dollars from Subway restaurants and Kohl's Department Store on the weekend of March 23 & 24th. The "Respect US Campaign" says it is using political tools by leveraging the consumption habits of the Black Community and its allies against the corporations who support radio music programming that degrades and dehumanizes Black people and especially women.
Speaking of women and music that degrades and glorifies and therefore encourages anti-Black social behavior through music, a rapper and former stripper who grew up in impoverished conditions is on the hot seat for video confessions about crimes she committed against men she met in strip clubs. While not seemingly boasting about her crimes, Cardi B seemed to rationalize her behavior by suggesting that is what she had to do in order to pay for studio time to record music. Some in the social media sphere have compared her case to Bill Cosby.
Related Video: NSFW

In numerous video confession tapes including the Breakfast Club, Cardi B admitted to drugging victims under the pretense of a private sexual encounter, described raping them by "tranny" which is additionally rape by deception, and then robbing her victims of all their cash and other valuables.  Kwabena also discussed the type of behavior glorified in Cardi B's music tracks and shared his thoughts on this latest revelation from the ratchet "Urban Radio".
Please continue to support the teaching of the use of new media technology to empower authentic Black Voices and the other work of the Black Talk Media Project! Make a donation and give what you can so we can continue projects like Black Talk Radio Network.