Podcast: Play in new window | Download (Duration: 52:03 — 23.8MB) | Embed
Subscribe: Apple Podcasts | Android | Email | Google Podcasts | Stitcher | TuneIn | RSS | More
New Abolitionists Radio – This week our guest speaker will be Melissa Holmes, CEO of Love Shouldn't Hurt which focuses on Domestic Violence. We hope to discuss the various ways women end up in US prison slavery which includes those who were in abusive life-threatening situations.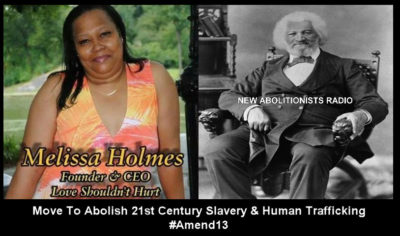 We want to also remind the community that women and particularly Black women have been the fastest growing segment of the US prison slave population. Love Shouldn't Hurt NY, Inc. is based in the Bronx, NY and has a support group on Facebook.
The About page states…
LSH is an awareness and support group, which is comprised of victims, survivors and lots of supporters. After surving two abusive relationships, I, Melissa Holmes started LSH, as a secret group on social media. I was looking for an arena to vent and support others who had or is suffering DV.

LSH is giving a sense of purpose through our daily prayers and supportive post, motivating people to leave abusive situations and helping them heal. There has been occasions where LSH has assisted victims in escaping there abusers. Read More.
---
New Abolitionists Radio is a collaborative effort between the non-profit organizations Prison Streetz Talk Ministries and the Black Talk Media Project. It is hosted by Taison McCollum, Mother Khadija, Maxwell Melvins with contributions from the producer Scotty T. Reid. New Abolitionists Radio broadcast Wednesdays at 8 PM EST on the Black Talk Radio Network digital radio station.