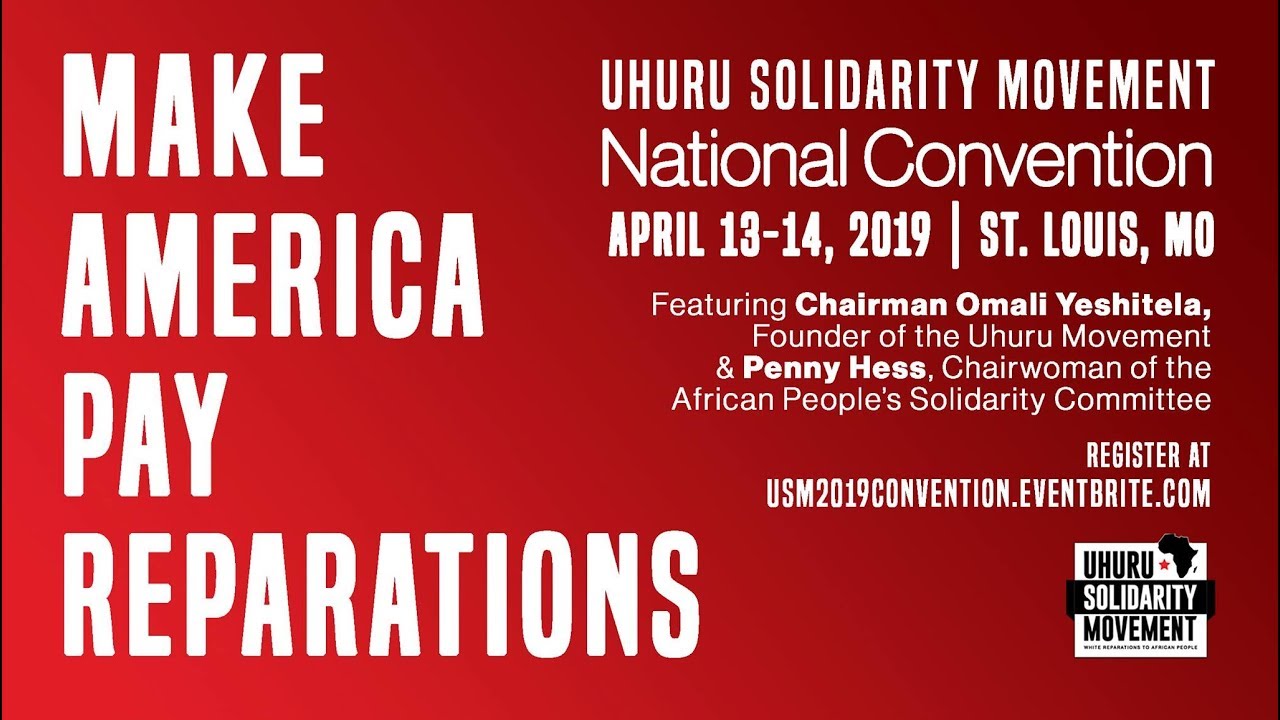 "Make America Pay Reparations" – Uhuru Solidarity Movement National Convention Day 1 Pt. 1
At Akwaaba Hall in St. Louis, Missouri, on April 13-14, 2019. This historic USM convention and its theme are a call to action to all white people who want to stand in solidarity with the Black Liberation Movement in overturning all forms of colonial oppression from police terror to the prison system. The struggle for reparations goes to the root of every problem emanating from a system built on the enslavement of African people and the genocide against the Indigenous people. If you are outraged by environmental destruction, abrupt climate change, gender-based oppression, rape culture, or any other symptom of capitalist-colonial oppression, this convention is your way to fight back– in solidarity with the African Revolution.
As the 2020 U.S. Presidential election approaches, several Democratic Party candidates are suddenly claiming to be in favor of reparations — but none of them can answer the question, "What does your reparations plan look like?"
The African People's Socialist Party has the answer to that question: USM is the organization of white people under the leadership of the African People's Socialist Party who build a mass movement for reparations to African people through organizing white people to stand in material solidarity with African-led programs of economic development and self-determination. The African People's Socialist Party and its leader, Chairman Omali Yeshitela, have fought for nearly 50 years to force the demand and practice of reparations into the mainstream, beginning with the first-ever World Tribunal on Reparations to the Black Community in 1982.
Speakers include Chairman Omali Yeshitela, the founder of the Uhuru Movement and worldwide fighter for African unity and freedom; Penny Hess, who has worked under the Party's leadership for 40 years to build the African People's Solidarity Committee and authored a landmark book entitled Overturning the Culture of Violence; and Jesse Nevel, Chair of the Uhuru Solidarity Movement who ran for office in Florida along with Akile Anai on a progressive, anti-colonial platform of reparations to the black community.
The weekend program will be packed with presentations, culture, food and discussions on a wide variety of topics and critical issues such as why reparations to the black community is the most progressive stance for white people to take, white LGBTQ solidarity with Black Power, how the environmental crisis is connected to the colonization of Africa, how capitalism is dependant on slavery and resource extraction such as diamonds and coltan from Africa, and of course documenting the fierce resistance from the African working-class fight for liberation and victories of the Black Power Blueprint project in St. Louis, MO.