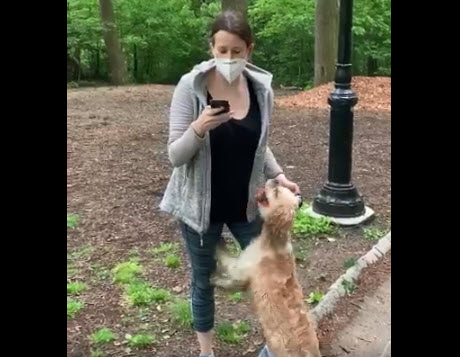 BTR News: Amy Cooper's Bid To Terrorize Black Man With Police Fails
Podcast: Play in new window | Download (Duration: 1:09 — 6.7MB) | Embed
Subscribe: Google Podcasts | Stitcher | Email | TuneIn | RSS | More
By Scotty T. Reid – A white woman in Central Park attempted to lynch a Black man by police because he dared to challenge her violation of park rules that required her to leash her dog that she was allowing to run free without restraint.
Christian Cooper, says he was bird watching in a wooded area of Central Park called the Ramble when he says he saw a dog off its leash that belonged to Amy Cooper, a white woman who is no relation to Christian who is a Black man.
"That's important to us birders because we know that dogs won't be off-leash at all and we can go there to see the ground-dwelling birds," Christian Cooper said. "People spend a lot of money and time planting in those areas as well. Nothing grows in a dog run for a reason."
Mr. Cooper began to film the exchange when Amy Cooper refused to leash her dog knowing as she admitted later to the press, it was against park rules, while accusing him of throwing dog treats at the dog which he denied.
The video begins with Amy Cooper pulling on her dog by the collar and telling Christian Cooper to stop recording her which is legal to do in public spaces.
"Please don't come close to me," Christian Cooper says, as Amy Cooper approaches him.
"Sir, I'm asking you to stop recording me," Amy Cooper says. That's when Amy Cooper says she's going to call the police. "I'm going to tell them there's an African American man threatening my life," she says.
"Please tell them whatever you like," Christian Cooper says. Amy Cooper is heard on her phone in the video lying to the police dispatcher.
"There's a man, African American, he has a bicycle helmet," she says. "He is recording me and threatening me and my dog." "I'm being threatened by a man in the Ramble," she continues in an audibly distraught voice. "Please send the cops immediately!"
Now Amy Cooper is apologizing after the video of the encounter started circulating on social media claiming she isn't a racist and would like to publicly apologize. She has been placed on administrative leave by her employer which is conducting an investigation into the incident.
According to Lawyers.com, "In New York, making a false report is a criminal offense under NY PL 240.50, 240.55, and 240.60. It can be charged as a misdemeanor or a felony and is punishable by up to one year in jail and as much as up to seven years in state prison.".
Amy Cooper and Christian Cooper had both left the area before police arrived. Police chalked it up to two people having a verbal disagreement but made no mention of holding Amy Cooper accountable for her false report which can and has resulted in the false arrests, wrongful convictions, and sometimes the deaths of Black men when falsely accused by white women in the United States. Thankfully today, Black men can have some measure of protection from false reports by recording these interactions but there is no guarantees that will even save them from being killed by police or winding up on a prison slavery plantation.