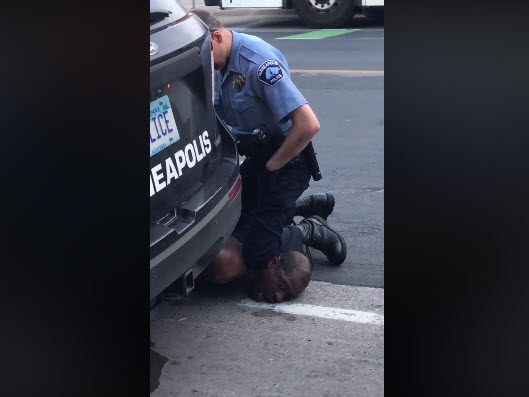 BTR News: Minneapolis Police Murder Man Caught On Film Begging For His Life
Podcast: Play in new window | Download (Duration: 10:09 — 23.5MB) | Embed
Subscribe: Google Podcasts | Stitcher | Email | TuneIn | RSS | More
A 40 something-year-old Black man who has yet to be identified was apparently murdered by Minneapolis police responding to a call about fraudulent economic activity at a local shop on Monday night. The man was sitting in his car when police believing he matched the description of the suspect who allegedly tried to engage in a financial transaction with allegedly forged documents when ordering him to exit the vehicle. Police claim there was a struggle but when the video starts, the man is pinned on the ground at the rear of a police vehicle and no longer resisting but begging for his life telling officers he "can't breathe". The video goes on for more than 10 minutes as the man finally loses consciousness and one of the officers continues to use his knee to put pressure on the man's neck.
A bystander who posted a video of the encounter on Facebook, along with other bystanders pleaded for the police to allow the man to breathe and to take the knee off the man's neck who was clearly in distress. One bystander, who claimed to have trained at the police academy said that the police seem to be enjoying what they were doing. One officer seemed to be threatening the concerned citizens who were become very agitated by the officer's actions and clear disregard for the man's life who would later be taken to Hennepin County Medical Center where he died a short time later.
The Minnesota Bureau of Criminal Apprehension has joined the FBI in its investigation. All body camera footage has been turned over to the BCA, which investigates most police shootings and in-custody deaths.
Update: Victim has been identified as George Floyd.