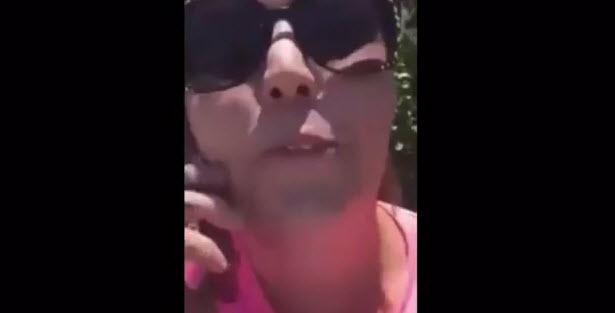 "Filthy Nigger" Slaps Racist White Woman at Myrtle Beach for spitting
[jwplayer mediaid="12452″]
By Scotty Reid
Thousands of Black bikers every year descend on Myrtle Beach, SC for an annual bike fest during this week. Governor Nikki Haley tried to end the event which takes place at a public beach and special laws (Black Codes) were passed to give law enforcement the power to target the bikers after three people were killed at the last event. However, the level of violence seen between bikers in Waco, Texas has never occurred at Myrtle Beach.
Some violence did take place recently when a racist white woman spat on a Black man who was filming and attempting to interview her about why she called another Black man a "nigger".
A partial transcript of the exchange reads,
"You called that man a n*gger for no reason,"
"Because he's a n*gger," responded the woman who identified herself as "Tara".
"He's a filthy f*cking n*gger, I called him a n*gger for acting like a f*cking n*gger," she stated.
The video of the exchange clearly shows Tara committing assault and battery on the camera man by spitting in his face not once but twice.
It was at this point the man then appears to slap the phone out of his attacker's hand or slapped her thereby causing her to drop her phone. A struggle seems to ensue before the video is cut off just after the racist woman spit on the man for the second time.
What happened after the camera was turned off is unknown at this time.