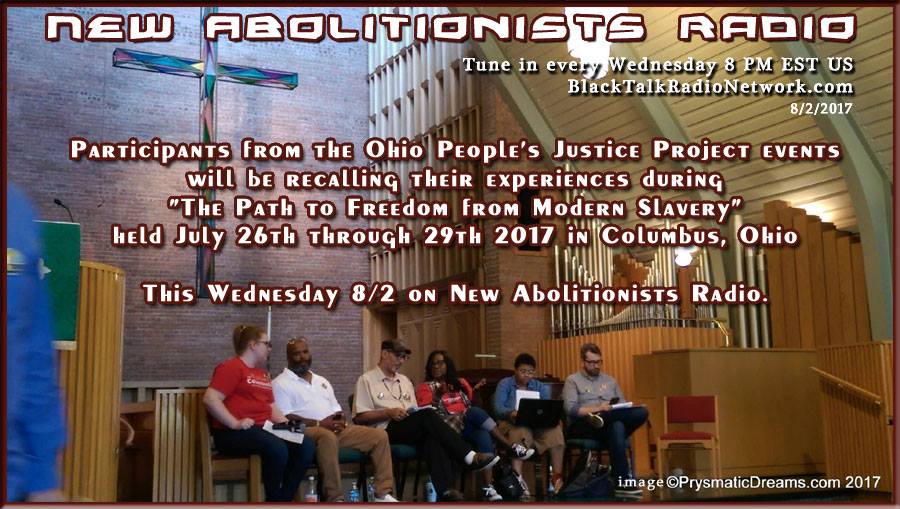 New Abolitionists Radio: Did The Confederacy Really "Lose" When Slavery Is Legal In The USA?
Podcast: Play in new window | Download (Duration: 2:09:18 — 59.2MB) | Embed
Subscribe: Google Podcasts | Stitcher | Email | TuneIn | RSS | More
Today is the August, 2nd, 2017 broadcast of New Abolitionists Radio. We are only 17 days away from the Millions for Prisoners March on Washington August 19th. #A19 The largest gathering of Slavery Abolitionists in US history and in my humble opinion the best chance we have ever had to legally counter and defeat mass incarceration, prison for profit, justice for sale and all the symptoms of slavery we experience today as it is allowed by the 13TH amendment.
• On this day in 1776, members of Congress affix their signatures to an enlarged copy of the Declaration of Independence.
• Tonight, participants from the Ohio People's Justice Project events will be recalling their experiences during
"The Path to Freedom from Modern Slavery" held July 26th through 29th 2017 in Columbus, Ohio.
• We'll cover as many current event stories as we can and update you on the movement.
• Our Abolitionist in Profile will be Maria W. Stewart. Abolitionist, speaker, and author of Religion and the Pure Principles of Morality.
• Our Rider of the 21st Century Underground Railroad is Jarrett Adams who was wrongfully convicted of rape in 2000 and sentenced to 28 years in prison. After seven years of wrongful incarceration, he was exonerated with the help of the Wisconsin Innocence Project.
• In the segment 'For Freedom's Sake. A History of Rebellion.' We will be reading an excerpt from Howard Zinn's book 1619-1741: Slavery and slave rebellion in the US
Please donate to the "NEW ABOLITIONISTS FUNDRAISER FOR WASHINGTON DC RALLY"!