Podcast: Play in new window | Download (Duration: 56:16 — 25.8MB) | Embed
Subscribe: Apple Podcasts | Android | Email | Google Podcasts | Stitcher | TuneIn | RSS | More
---
Tonight on New Abolitionists Radio we will discuss how inhumanity of not only the system but also the people working in prisons, jails and detention facilities across the United States. The facilities and people working within are getting unwanted attention and scrutiny because of the high profile death of multi-millionaire Jeffery Epstein who counted royalty, celebrities and former presidents among his one time associates including current President Donald J Trump.
However, prisoners lose their lives unnecessarily in a number of ways that include suicides, homicides and medical neglect.
We will speak with California prison guard whistleblower, US veteran and author Donald J Vodicka about the Epstein case and the security conditions or lack thereof of prisoners across the United States and not just Epstein.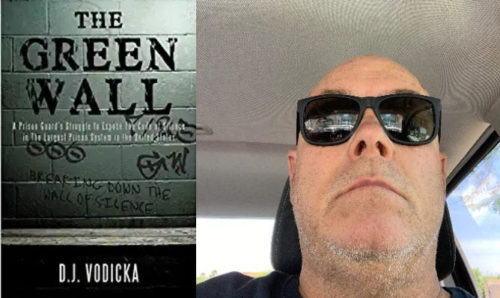 The federal jail known as the Metropolitan Correctional Center where Epstein was held was the subject of hunger strikes in January of this year related to the inhumane conditions and visitation rights of family members of those being incarcerated be suspended.
Understaffing at prisons, jails and detention facilities has been a problem because of low pay and being forced to work in the same inhumane conditions the prisoners experience. It seems logical to assume that prison slavery profiteers want to maximize their profits at the expense of prisoners and employees. The US federal and state governments combined spend roughly 180 Billion annually on incarceration according to a 2017 report from the Equal Justice Initiative.
The Justice Department and US AG Bill Barr have said they will get to the bottom of what happened at the M.C.C concerning Epistein's demise. Yet, don't expect the conditions to be improved or addressed in a meaningful way by Barr and the DOJ. Despite the US Justice Department investigation into Alabama's prison system that led them to conclude in a April 2019 press release  that the entire Alabama penal system constituted a U.S. Constitution 8th Amendment violation which pertains to the infliction of "cruel and unusual punishment", The U.S, Justice Department and Bill Barr have taken no action against Alabama to force its compliance with the U.S. Constitution in enforcing the prisoner's constitutional rights.
"The United States Constitution bans 'cruel and unusual punishments' but the conditions found in our investigation of Alabama prisons provide reasonable cause to believe there is a flagrant disregard of that injunction," said U.S. Attorney Richard Moore. "The failure to respect the rule of law by providing humane treatment for inmates in Alabama prisons is a poor reflection on those of us who live and work in Alabama. We are better than this. We do not need to tarry very long assessing blame, but rather commit to righting this wrong and spare our State further embarrassment. The task is daunting, but one we must embrace now without reservation. I am confident that Governor Ivey and the Legislative leadership in the State of Alabama understand the nature of this inherited problem and that they are committed to sustainable solutions."
Family members of Alabama prisoners and Alabama prison activists are attempting to organize a September press conference and protest in front of the DOJ headquarters in Washington, DC to demand federal action in Alabama.