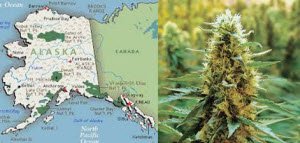 Alaskan residents set to vote on Cannabis legalization
The Lieutenant Governor of Alaska, Mead Treadwell, announced that an initiative to legalize cannabis use for adults 21 and older has qualified to be on the August 19 primary ballot. If passed, cannabis use will legal and regulate like alcohol beverages. The initiative is expected to pass a poll conducted in February found that 55% of Alaskans favor the initiative.
Barring a ballot defeat, Alaska would become the third state to legalize cannabis for recreational use. Colorado and Washington are presently the only states that allow legal cannabis production, sale and consumption.
In February, Colorado announced that it took in far more tax revenue connected to cannabis sales than expected and based on the law that was passed by Colorado voters, the majority of those funds will be injected into the state education budget for things like new school construction.
The Obama administration has said in the past that it will not enforce federal cannabis prohibition laws in states that have legalized the use and sale of cannabis.
Check this story out…