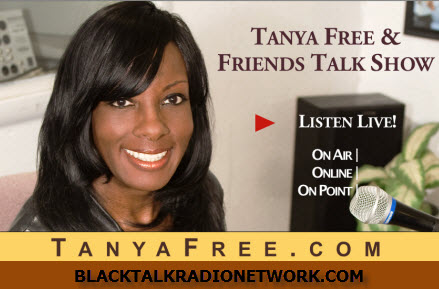 WEDNESDAYS – 2:00 PM EST
STUDIO LINE: (804) 321-1010
Listen on the go. Download the FREE LIVE 365 app
Tanya Free – Facebook – Twitter
This week's topics include:
Is there a need for what many have called a Black Agenda or should we move toward an American agenda inclusive of the needs of African Americans and other minorities?
A recent poll has revealed that Americans are split down the middle when it comes to whether we need stricter gun control laws.
Do you think Russian President Vladimir Putin will use his power to end the escalating violence in Ukraine? What steps if any should the US take in response to the escalating violence?
Reverend Al Sharpton calls for justice in choke hold death
Florida Cop Fired for KKK ties
Tanya is the Executive Producer and Host of the "Tanya Free and Friends Talk Show," a platform for social and political straight talk originating from WCLM1450AM in Central Virginia and simulcast on the Charlotte, NC based Black Talk Radio Network based and online at TanyaFree .com .Her nationally syndicated "Question of the Week" can be heard weekly on Sirius/XM Satellite Radio and The Big John Trimble American Music Network. For Archives check out http://TanyaFree.com
Sponsorship opportunities available. Call Tanya at 804-321-1010 for more information.